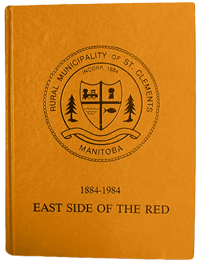 To celebrate it's centennial, the Rural Municipality of St. Clements published a history book entitled The East Side of the Red, 1884 to 1984.
At 944 pages, this book was truly a labour of love and a community effort of dozens of volunteers. It features stories of St. Clements: of families, churches, schools, organizations, politics and more.
There are no copies available to purchase anymore, so we have made it available to download in small pieces (as PDFs).
This history book can be downloaded in its entirety here on the website manitobia.ca.
The History Book is now searchable.
Just enter your search term in the search box (top right corner of this webpage).
* Note: If you are viewing the PDF in your browser, the quality of photos may be poor. Download the PDF for better photo quality.
Pages 1-98
Pages 99-198
Pages 199-300
Pages 301-400
Pages 401-500
Pages 501-600
Pages 601-700
Pages 701-800
Pages 801-900
Pages 901-945