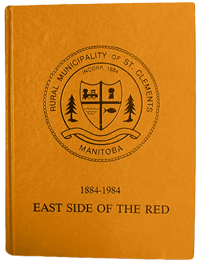 To celebrate it's centennial, the Rural Municipality of St. Clements published a history book entitled East Side of the Red, 1884 to 1984.
At 944 pages, this book was truly a labour of love and a community effort of dozens of volunteers. It features stories of St. Clements: of families, churches, schools, organizations, politics and more.
There are no copies available to purchase anymore, so we have made it available to download in small pieces (as PDFs).
* Note: If you are viewing the PDF in your browser, the quality of photos may be poor. Download the PDF for better photo quality.
[tabby title="Pages 1-98″]

Click link to download PDF
Page Contents
Pages 1 - 10 (2.2 MB)
Greetings and acknowledgements


Prayer


Poems


Pages 11 - 20 (1 MB)
Lot survey from 1875


St. Peters Indian Reserve No. 1


Brokenhead Indian Reserve No. 4


Pages 21-32 (3.2 MB)
Brokenhead Indian Reserve No. 4 (continued)


Coming of the Rails


Pages 33-42 (3 MB)
Coming of the Rails  (continued)


CPR


Pages 43-52 (1.6 MB)
CPR   (continued)


Mrs. Smiley's Album (photos)


Pages 53-60 (1 MB)
Mrs. Smiley's Album (photos)


Colvile or Colville Landing


Pages 61-70 (2 MB)
More Rails for St. Clements: CNR


The Old Canadian Pacific Roundhouse at East Selkirk Converted into the Immigration Building


Pages 71-80 (1.5MB)
The Old Canadian Pacific Roundhouse  (continued)


Pages 81-90 (4.9 MB)
The Old Canadian Pacific Roundhouse (continued)


Local Government for the East Side of the Red River: The Municipality of St. Clements


Pages 91-98 (3.1 MB)
Local Government for the East Side of the Red River (continued)


Rural Municipality of St. Clements Fire Department


[tabby title="Pages 99-198″]

Click link to download PDF
Page Contents
Pages 99-108 (2.2 MB)
Rural Municipality of St. Clements Fire Department (continued)


St. Clements Police Force


Weed Control East of the Red River


Pages 109-118 (1.5 MB)
Weed Control East of the Red River (continued)


Road Building (photos)


Pages 119-128 (2.8 MB)
St. Clements Boundaries


Our Council Chambers


Pages 129-138 (1.7 MB)
Our Council Chambers (continued)


Recollections of Secretary-Treasurer 1946 to 1982


Pages 139-148 (2.2 MB)
Recollections of Secretary-Treasurer 1946 to 1982 (continued)


My Twenty-one Years as Councillor in St. Clements Municipality Ward Five


St. Andrew's Lock and Dam 1900-1983


Pages 149-158 (1.6 MB)
St. Andrew's Lock and Dam 1900-1983 (continued)


Bridge Across the Red River at Selkirk


Pages 159-168 (2.5 MB)
Bridge Across the Red River at Selkirk (continued)


Red River Floodway


Pruden's Creek Bridge


Bridges


Poem: The Country Cemetery by John Dolinski


Pages 169-178 (2.4 MB)
Our Places of Worship




The Ashfield Gospel Hall


History of the Balsam Bay Assembly


Balsam Bay Cemetery and Church


The Corpus Christi Church


Corpus Christi Rosary Society


Holy Trinity Ukrainian Catholic Church, Gonor


The Kirkness Presbyterian Church


A Record of the Early History of Protestant Churches


Goodwill Woman's Missionary Society



Pages 179-188 (4 MB)
Our Places of Worship




McKenzie Presbyterian Church


St. Judes Anglican Church, Grand Marais


St. Michaels Ukrainian Greek Orthodox Church


St. Nicholas Ukrainian Greek Orthodox Church, Gonor, MB (1904-1982)


St. Nicholas Orthodox Church of Narol



Pages 189-198 (2 MB)
Our Places of Worship




St. Nicholas Orthodox Church of Narol (continued)


St. Peters Church, Dynevor


The Roman Catholic Church of St. Stanislaus in East Selkirk


St. Theresa Church in Walkleyburg


Ukrainian Catholic Church in East Selkirk


[tabby title="Pages 199-300″]

Click link to download PDF
Page Contents
Pages 199-208 (6.2 MB)
Education




Poem: The Country School by John Dolinski


Arnhold School No. 1618


Ashfield School No. 428


Balsam Bay S.D. No. 859



Pages 209-218 (3.2 MB)
Education




Beaconia S.D. No. 2162


Bright Star S.D. No. 2024


Brodie S.D. No. 1854 (Boundary Dispute)


Brookside S.D. No. 1546


Donald S.D. No. 1094



Pages 219-228 (2.4 MB)
Education




Donald S.D. No. 1094 (continued)


Dunlop S.D. No. 2150


East Selkirk S.D. No. 99


Glenmoore S.D. No. 2293


Gonor S.D. No. 1070



Pages 229-238 (1.2 MB)
Education




Gonor S.D. No. 1070 (continued)


Grand Marais S.D. No. 1852


Greenwald S.D. No. 1160


Gull Lake S.D. No. 2269



Pages 239-248 (1.9 MB)
Education




Happy Thought S.D. No. 1452



Pages 249-260 (1.4 MB)
Education




Happy Thought S.D. No. 1452 (continued)


Highland S.D. No. 1628


Hillside Beach S.D. No. 1980


Hoey East and Hoey West S.D. No. 2173


Kitchener S.D. No. 1076


Ladywood S.D. No. 555


Libau S.D. No. 1231



Pages 261-270 (1.2 MB)
Education




Libau S.D. No. 1231(continued)


The Lighter Side of Serving as a School Trustee


Lilydale School No. 1285


The Mapleton S.D. No. 5


Mars S.D. No. 1774


Mayfield S.D. No. 1473



Pages 271-280 (3.2 MB)
Education




Mayfield S.D. No. 1473 (continued)


Patapun S.D. No. 1636


Poplar Park S.D. No. 545


Steve Myslawchuk: My Memories Since my School Days


Sheffield S.D. No. 1976


Stony Point S.D. No. 2077


Thalberg South S.D. No. 1411


Thalber North School No. 2270


Victoria Beach S.D. No. 1811



Pages 281-290 (3.7 MB)
Education




Victoria Beach S.D. No. 1811 (continued)


Walter Whyte Collegiate and School


Woodrow S.D. No. 1897



Early Post Offices Serving the East Side of the Red River


General Store and Post office in Balsam Bay


Philip Monkman


Pages 291-300 (1.5 MB)
Philip Monkman (continued)


William Cornelius Van Horne (1843 - 1915)


Searle Farms (1941-45)


[tabby title="Pages 301-400″]

Click link to download PDF
Page Contents
Pages 301-310 (1 MB)
Searle Farms (1941-45)


Pages 311-322 (1.6 MB)
Searle Handweaving


Van Horne Farm photos


When the Lights Went on in St. Clements


Selkirk Generating Station


History of Natural Gas in the R. M. of St. Clements


Business and Industry




Gunn's Creek Flour Mill


Doidge's Pottery Works


Early Industry of Brick and Stone



Pages 323-332 (1 MB)
Business and Industry




Early Industry of Brick and Stone (continued)


Red River Brick and Tile


C.I.L.


C.I.L. Inc. "Brainerd Works"


The Bait House





Pages 333-342 (2.4 MB)
Business and Industry




The Bait House(continued)


Melody Lane


The Strawberry Patch "Pic' N Pay"


Twilite Gardens


Photos





Pages 343-350 (2.1 MB)
Business and Industry


Pages 351-360 (1.9 MB)
Business and Industry




Photos


Hotels


Market Gardening photos


Wood Cutting photos





Pages 361-370 (2.4 MB)
Business and Industry




Hunting, trapping and fishing photos


Traders


Mixed Farming photos



Our Early Bus Lines and Other Modes of Transportation photos


Pages 371-380 (2.5 MB)
Our Early Bus Lines and Other Modes of Transportation photos




Northern Bus Lines


Other Modes of Transportation photos



Resorts


Pages 381-392 (2.2 MB)
Resorts




Sandy Point


Gull Lake: The Place Beyond the Hill



Organizations




The Ukrainian Home and Reading Society of East Selkirk


Ukrainian Catholic Youth Club of East Selkirk


Ukrainian National Home of Poplar Park


Ukrainian Benevolent Society in East Selkirk


The Pals





Pages 393-400 (2 MB)
Organizations




R.T.U.'s: Rough, Tough, and Ugly


Narol Golden Age Club History


The Selkirk Wildlife Association


First St. Clements Brownies and Guides


Grand Beach Community Curling Club


East Selkirk and District Senior Citizen Club


Knights of Colombus


Canadian Order of Foresters





[tabby title="Pages 401-500″]

Click link to download PDF
Page Contents
Pages 401-410 (2 MB)

Organizations




4-H Clubs


The East Selkirk Recreational Association



Musicians


Pages 411-420 (3.7 MB)
Musicians




Sailors Orchestra


The Dreamers Orchestra


Continentals Orchestra


The Interlake Polka Kings


Mike Domish Band


Moonlight Orchestra



Sports


Floods


Snow Storms


Pages 421-430 (2 MB)
Veterans


Pages 431-440 (1.6 MB)
Veterans



Family Stories




Ableson


Adam, Michael and Parascevia


Aldridge, William and Gudrun


Allan, James


Allberg


Anderson, Andrew of Polar Park


Anderson, Albert Eric





Pages 441-450 (2.4 MB)
Family Stories




Anderson, Albert Eric (continued)


Anderson, Arni


Anderson, James and Elizabeth


Andrayko, Joseph and Katryna Sr.


Andrayko, Joseph and Eileen Jr.


Andrews


Andrews, Dr. John Edwin


Ash, Jaqueline


Baldwin





Pages 451-460 (2.5 MB)
Family Stories




Banash, John and Irene


Barber, Fred W.


Barchyn


Baron, Maxim and Sophia


Bater


Bettof, August


Blacher, Peter


Blackner, Joseph and Regina


Block, Julius


Bogoski, Peter and Justina


Bogoski, Michael and Sophie


Bogoski, John and Pauline


Bogoski, Bill land Mary


Bogoski, Lena


Bogoski, George and Catherine





Pages 461-470 (2.3 MB)
Family Stories




Bolin, Johan and Ingrid Katarina


Bosko, Mike and Katherine


Buolton


Boyko, Paul and Eva


Bryczka (Bretchka)


Bretchka, Victor


Bruce, David Alfred


Bruce, Patrick Jr.


Bruce, Reverend Patrick


Bruce, George Henry and Martha Jean


Bryll, Victor and Nettie





Pages 471-480 (2.4 MB)
Family Stories




Budy, Andrew and Julia


Bunio, John and Anne


Bunio, John


Bunio, Micheal Jr.


Bunio, Peter


Bunn, Thomas


Bunn, Thomas William


Burbella, Wasyl and Marie


Burdiak, Michael and Anastasia





Pages 481-490 (2.3 MB)
Family Stories




Burgess, Stanley (Hank) Cameron


Burnett


Burnett, Gordon Barron


Byrko, John and Pearl


Calder, John Thomas


Chernetsky, Alex and Annie


Chernetsky, Harvey


Chernetski, Gregory (Harry)


Chopek, George and Anne


Chorney, John





Pages 491-500 (1.4 MB)
Family Stories




Chorney, John (continued)


Chorney, Anton and Adeline


Chorney, Joe


Chorney, John Jr. and Stella


Chura


Chyborak, Joseph


Clarke, Colin and ESther


Colbert, Albert H.O.


Cole, Peter and Marion





[tabby title="Pages 501-600″]

Click link to download PDF
Page Contents
Pages 501-510 (1.3 MB)
Family Stories




Cole, Peter and Marion (continued)


Cole, Patrick Micheal


Cole, William George


Cole, Marlene Patricia


Cole, Theodore Anthony


Copperthwaite, Kenyon


Craigie, Magnus


Creaney, W.A. (Bill) and Kathleen Isabel


Cruikshanks, George


Cybulsky, John Sr.


Darichuk, Sam


Davis, Arthur John


Donald (Davis), Mabel





Pages 511-520 (1.3 MB)
Family Stories




Donald (Davis), Mabel (continued)


Demchuk, John and Justina


Denesiuk, Paul and Natalie


Denesiuk


Dolinski, Wasyl and Katherine


Dolynuik


Donaldson, William (Bill)


Dubas


Ducharme, Alexander and Kathleen


Dumka, Andrew and Annie





Pages 521-530 (1.3 MB)
Family Stories




Dumka, Andrew and Annie (continued)


Dumka, Alex


Erskine, J.J.


Fedcheshen, Michael and Maria


Fegol, William and Stephen


Fewchuk, Peter and Polly


Fidler, William Thomas


Foreman


Foseid, Gary and Darlene


Fox, John and Gertrude


Frank, George, Annie and Jessie





Pages 531-542 (1.6 MB)
Family Stories




Frank, George, Annie and Jessie (continued)


Froehlich, Michael


Froehlich, Henry


Froehlich, Frederick


Frost, James Henry


Frost, Byron Edgar (Stanley)


Fuller


Gawriluk, John


Gawriluk, Frank


Gawriluk, George





Pages 543-552 (1.4 MB)
Family Stories




Gawriluk, George (continued)


Gawriluk, Peter


Gayleard, Wiliam Henry


Gayleard, William John


Gaynor


Gerylo, John and Annie


Gerylo, Wasyl


Gerylo, Michael and Jaan


Gislason


Gislason, Gisli





Pages 553-560 (1 MB)
Family Stories




Gloss, John (Jack)


Glowasky, Roman and Helene


Goodman, Einar


Gowryluk, John W.


Grabowski, Nicholas and Kathleen


Greening, Fredrick Arnhold and Henrietta "Wilke"


Greening, Emil





Pages 561-570 (1.3 MB)
Family Stories




Greening, Emil (continued)


Greening, Ewald Emil (Isaac)


Griffis, Edith May


Grisdale, Samuel


Gruber, Anton and Elizabeth


Gudmundson, Johannes and Olof


Gunn, John


Gunn, John James


Gunn, Gilbert Garrioch





Pages 571-580 (1.4 MB)
Family Stories




Gunn, Gilbert Garrioch (continued)


Gunn, Mary


Gunn, Emma Ann


Gunn, Alexander Montgomery Gunn


Gunter, John and Marie


Gunter, Joseph and Mary


Gusnoski, John and Mary


Guttormson


Halpin


Harluck, Nick and Mary





Pages 581-590 (1.4 MB)
Family Stories




Harrison, Mark


Hay, Edward Henry George Gunter


Hay, Robert


Heap, James


Helwer


Herda, Joseph and Antonia


Hertz, Rudolf and Stephanie


Hickes


Hnatiuk


Hnatiuk, Paul and Nettie


Hnatiuk, John





Pages 591-600 (1.5 MB)
Family Stories




Hnatiuk, John (continued)


Hoffman, Traugott and Caroline


Hoffman, Charlie and Nellie


Holm, Sveinbjorn and Emy Augusta


Holubowich, Emil and Genivieve


Homenick, Vasil


Homenick, John


Homenick, George and Emma





[tabby title="Pages 601-700″]

Click link to download PDF
Page Contents
Pages 601-612 (1.2 MB)
Family Stories




Homenick, George and Emma (continued)


Homenick, Anna and Dora


Homenick, William (Billie)


Horanski


Horbas, Steve and Mary


Horbas, Edward and Merle


Horbas, Merle


Horneski, Peter and Roslia


Hourie, William


Howards


Hryciw (Ritchie), Paul and Maria


Iwanchuk, Steven and Annie


Jablonski


Jennings, Maud, Thomas





Pages 613-622 (1.4 MB)
Family Stories




Johannsson


Jonasson, Jacob


Joseph, Frank and Georgina


Kabo, Alex


Kaleski, Peter


Kalinsky, John


Kaluzniak


Kanicki (Koniski), Palaga and Semko





Pages 623-630 (1.2 MB)
Family Stories




Kantola, John Jacob and Marie


Karandiuk, Pater and Mary


Karanko, Stefan


Kazina


Kazina, Dmytro and Eva


Kelich, John and Katherine


Kenny





Pages 631-642 (3.5 MB)
Family Stories




King, Peter and Veronica


Kintop


Kirkness, William


Klann, Ludwig


Klann, Daniel


Klann, Fred


Klatt, Adolf


Klim


Kolmatiski (Colmer)


Kologinski


Kolynchuk, Bill and Annie


Kolynchuk, Katherine


Koynchuk, John and Helen





Pages 643-652 (1.4 MB)
Family Stories




Kolynchuk, Nick and Marie


Kolynchuk, Mike and Mary


Kolton, Ksenia and Karol


Komadowski, Michael and Katherine


Komadowski, Frank and Gisela (Gay)


Kordalchuk, Anton and Annie


Kodralchuk, Fred and Mary (Znak)


Kosack, (Wasyl) William


Kosack, Dave (Metro)


Kosack, John


Kosack, Harry





Pages 653-660 (1 MB)
Family Stories




Kosack, Michael


Kosack, Andrew


Kosack, Steve


Kosack, Alexander


Kosack, Fred


Kosack, Nicholas


Kosack, William


Kosakewich, Roman and Pauline


Koshyk, Harry


Kosowicz, Alex and Martha


Koterla, Peter





Pages 661-670 (1.3 MB)
Family Stories




Koterla, George


Koterla, Andrew


Koterla, Ernest Patrick


Kotowich (Kotowicz), Maxim


Kotowich, William


Kowalchuk, Nicholas


Kowalski, John and Julia


Kowaluk, Harry and Ann


Kozyniak, John and Nellie


Kreviazuk, John


Krewiak (Krywiak), Harry and Mary





Pages 671-680 (1.3 MB)
Family Stories




Kruszelnicki (Kruse), Frank and Josephine


Kuhn, Peter


Kulikowski


Kutcy, Peter and Edith


Kuzminski


Lalchun, Norman


Lane, George and Nellie


Larson, H. August


Lefko, Walter and Jean


Lefteruk, Alex and Katherine


Lefteruk, John and Mary





Pages 681-690 (1.4 MB)
Family Stories




Lefteruk, John and Mary (continued)


Lefteruk, Nicholas and Annie


Leszczynski, Stanley


Levin


Lewis, Alexander and Mary


Light, Gustive and Pauline


Lindstrom, Edward


Linklater, Maggie


Longbottom, George and Christina





Pages 691-700 (2.5 MB)
Family Stories




Longbottom, George and Christina (continued)


Ludwiczynski, Simeon and Katherine


Lyon, David S. and Martha Ellen


Lyzun, Luke


MacDonald, Robert and Charlotte


MacFarlane, Dawn


Macfie, Claude R.


Macfie, Arthur


Mackelson, Charles and Lena


Mackelson, Violet and George


Maclean, Alexander and Margaret (McLeod)


Maclean, Murdoch Daniel and Eva Cameron


Machewski (Maczewski)





[tabby title="Pages 701-800″]

Click link to download PDF
Page Contents
Pages 701-710 (1 MB)
Family Stories




Machewski (Maczewski) (continued)


Malazdrewicz, Stanislaw and Paranka


Malazdrewicz, Stanley and Anne


Malis, Frank and Anne


Maliscz (Malis), Stanislaw Josef


Malish, Stefan and Kateryna


Malyna, Nick and Irene


Mandzie, Nicholas and Nettie


Markevich, Anrew and Mary


Markevich (Markiewicz), Peter and Katherine


Marko, Maxium and Pearl





Pages 711-720 (1.4 MB)
Family Stories




Marsch, Donald Llloyd


Martin


Martin, Dmytro (Dan) and Pearl


Martin-Viscount, William


Poem: Viscount william Martin by John Dolinski


Maruda, Sam and Hilda


Maruda, Antoni and Agnes


Mattson, Charlie


Matwin


Mazur, Leslie and Dora


McBain, John Alexander and Kathleen Joy


McColl, E.





Pages 721-730 (2.4 MB)
Family Stories




McDonald, Roderick and Jemina


McGee, John


McIvor, John Kenneth and Maryanne


McKenzie, Hugh


McLean, John Campbell and Margaret


McLennan, Hugh and Mary


McLeod, John and Marion (Campbell)


McLeod, Murdock and Hanna


McMurchy, Edward


McNeill, John Malcolm and Eva


Merkel, Anne


Michalowsky, Lucas and Julia


Mikolash, Anton and Julia


Mikolash, Theofile and Maria


Mikolash, Leo and Kay





Pages 731-740 (1.3 MB)
Family Stories




Miller, John


Minkus, Ray and Martha


Misyk


Mitchell


Mlodzinski, Michael


Mlodzinski, John and Sophie


Mlodzinsk, Andrew and Mary


Monkman, Joseph


Monkman


Monkman, Gordon


Moolchan, Barry


Moroz, Paul and Angela





Pages 741-750 (1.3 MB)
Family Stories




Murray


Murray, Kennetha and Lena


Muzychka, Wasyl and Olena


Myslawchuk, Hryhory


Nebozenko, Stefan and Julia


Nebozenko, Michael and Mary


Negrich, Wasyl (William) and Rozalia


Nelson, Emma and Jim


Nelson, Henry Watson and Barbara Croy


Newman, Henry (Harry) and Marg


Nikolaychuk (Nickey), Jack and Maria





Pages 751-760 (1.4 MB)
Family Stories




Nikolaychuk (Nickey), Jack and Maria (continued)


Novastaski, Michael and Katherine


Nova, Nick and Elsie


Nowakowski, John and Eleanora


Nowasad, Wasyl (William) and Maria


Nowell, Adeline


Oastler, James Roger and Beatrice


Ogonowski, Casper and Anna


Oleksiuk, Alex and Yoanna


Oleszczuk, Francisco and Anna


Omeniuk





Pages 761-770 (1.3 MB)
Family Stories




Omeniuk (continued)


Onishko, Tony


Otto, Fred K.


Otto, John and Gusty


Ovens, Isaak and Katherine (Winner)


Osol, Jacob


Ozol, Hans


Pajak, Joseph and Sophia


Parfaniuk, Kiryk and Aniela


Paskaruk


Patson, Michael and Mary


Patzer, Len and Hilda


Paulson





Pages 771-780 (1.2 MB)
Family Stories




Pawluk, Alexander


Pawluk, John and Katherine


Pawluk, John


Pawluk, John and Olena


Payonk, Mary and Tony


Peake, Michael


Petaski, Mike and Sophie


Petaski, Casimir and Mary


Peterson, Hans Dordi


Peterson-Malis


Petznick, Daniel


Pewarchuk


Pickett, Isaac Gould


Pitlowany, Anton and Irene





Pages 781-790 (1.2 MB)
Family Stories




Pitlowany, Anton and Irene (continued)


Plysiuk


Popiel, Harry and Stanislawa


Porter


Prince, William Arnold


Pronyk, Thomas (Tymko) and Maria


Pronyk, Matthew


Pruden, William (Willie)


Pruden, Alex


Pruden, James Peter


Puteran, John





Pages 791-800 (1.2 MB)
Family Stories




Puteran, William (Doc) and Victoria


Rain, Albert and Ida


Ranger, William (Bill) and Margaret (McLean)


Recksiedler, Diengot and Henrietta


Hnatyshyn Reutcky


Riehl, Jacob and Philipina


Robertson, John Emslie (Jock) and Mary


Rogoski, Frank and Caroline


Rokosh, John and Eva


Romaniuk, William and Nettie (Kordalchuk)


Romano, William and Alice





[tabby title="Pages 801-900″]

Click link to download PDF
Page Contents
Pages 801-810 (2 MB)
Family Stories




Rowley, Alexander Butler


Rowley, Sam


Rozak


Rozmus, Walter and Agnes


Saluk


Saluk, Walter


Saluk, Henry


Sawchuk, Clifford and Anna





Pages 811-820 (2.4 MB)
Family Stories




Sawchuk, Helen, Mayann and Stephanie


Sawchuk, Paul (Sax)


Sawula


Schalme


Schneider, Reinhard and Irmgard


Schwark, Julius


Scott, Sir Peter CBD DSC LL.D


Scramstad, Otto and Ida


Semenchuk


Semeniuk, Metro and Natalka


Semeniuk, Fedko (Fred)


Seniuk, William and Doris


Sharp, Morris Scharfe





Pages 821-830 (1.3 MB)
Family Stories




Sharp, Morris Scharfe (continued)


Shastko, Alex


Shulski, Nick


Shumilak


Shumilak, Bert and Steffie


Sigurdson, Sigurdur and Jarngerdur


Sjoberg, Clarence and Ruth


Skehar, Nikkoli and Katrina


Skrypetz





 Pages 831-840 (3.8 MB)
Family Stories




Skrypetz (continued)


Skrypnyk, Thomas and Irene


Slipec, Hnat (Harry) and Feska


Smiley


Smoley, Dora (Ewdokia)


Smolinski, Joe and Florence


Smorang, Mike


Sokolowski, William and Jean


Solnik, Sam and Marina


Sopko





Pages 841-850 (1.3 MB)
Family Stories




Sopko (continued)


Sozansky


Spence, Alexander


Spreen, Meta and Martin


Starodub, Micheal


Starodub, Peter F.


Stasiuk


Stefaniuk, William


Steinke


Sternat





Pages 851-860 (1.5 MB)
Family Stories




Sternat (continued)


Stevens, Captain William and Ingibjorg


Strycharz, Samuel and Katherine


Stubel, Reinold


Sul, Samuel


Sullivan, Lieut.-Col. Arthur





Pages 861-870 (1.3 MB)
Family Stories




Swan, George


Szydlik, Piotv (Peter) and Bronislawa (Bernice)


Szydlik, Stanley and Sharron


Taylor, Robert Alexander


Taylor, Robert and Ethel


Tepleski, Wasyl and Ann


Tepleski, Stephen and Olga


Teplyske, Clifford and Victoria


Thomas


Thomas, Earl Richard and Vera Thomas


Thomas, George





Pages 871-880 (1.2 MB)
Family Stories




Thomas, George (continued)


Thomas, Joseph


Thomas, Charles


Thomas, Captain W.R.


Thomas, Melville Duncan


Thomas, Kenneth Llloyd


Tomszak, Frank and Eva


Tomko, Peter and Leda


Thompson, William Henry


Topolowski, Steve


Topor, Charles


Tymo (Timo)


Typliski, Metro and Annie


Uskiw





Pages 881-890 (2.3 MB)
Family Stories




Uskiw (continued)


Van Hartevelt, William


Wachal, John and Teresa


Wachal, Antoni and Emilia


Wallace





Pages 891-900 (3.3 MB)
Family Stories




Wallace (continued)


Wanag


Wardrop, William Leslie (Les) and Olive Evelyn (Maclean)


Warrenchuk


Wasylyk, Michael


Wasylik, Nicholas


Watko (Wojtko)


Waytiuk, Alex and Mary


Waytiuk, Klym and Lucy





[tabby title="Pages 901-945″]

Click link to download PDF
Page Contents
Pages 901-910 (3 MB)
Family Stories




Waytiuk, Harry and Catherine


Wentland, William and Agusta


Wesley (Wozlowski), Frank


Winger, John and Anna


Williams, Daniel F.


Wiess, Joe


Wood


Woodward


Wusaty


Wuzinski, Steve and Nellie


Yakimovich





Pages 911-920 (3 MB)
Family Stories




Yakimovich (continued)


Yokimas, Steve


Young, William R.


Yule, James


Zabogruski, Andrew and Pauline


Zahayko, Nazarko


Zahayko, Nellie


Zahayko, George


Zahayko, Ann


Zahayko, Paul


Zahayko, Doreen


Zapototsky, Alex and Mary


Zarichney


Zaversnuke, Wasyl (Bill) and Marija (Maria)


Zebinski, Mary and Ted





Pages 921-930 (1 MB)
Family Stories




Zebinski, Mary and Ted (continued)


Zegil, Moses


Zeilig, Max


Zeilig, Morrey


Zirk, Jacob and Amelia


Zorniak, Michael and Nettie


Zyblock, Maichael and Mary


Bosko


King, Leonard (Pat)


Lau, Andy and Lily


Morrison, David and Mary (Leask)


Verheul, Ari A. and Anna





Pages 931-940 1.2 MB)
Family Stories




Wolanchuk, Tom and Rose (Wolenin)


Poem: Lake Winnipeg by Miranda Woodward


Poem: the Early Settlers by John Dolinski


Onhaiser, Joseph and Apolonia



Index


Pages 841-945 (1 MB)
Index


Beaconia


Photos


[tabbyending]