Discover the rich heritage of one of the oldest settled areas of Manitoba, Canada.
Sharing our history and stories with you!
Learn about the inspiring stories and accomplishments of our pioneers.
A brief history of Red River North
20,000 years ago: It lay beneath a sheet of ice almost 4 kilometres thick
11,000 years ago: It was at the bottom of glacial Lake Agassiz
10,000 years ago: The first humans arrived as the lake receded
230 years ago: European fur traders arrive, followed shortly by settlers
Present: St.Clements has over 10,000 full-time residents and 5,000 cottagers
Students interested in learning about local history
Residents wanting to know more about the story of where they live
Visitors who want to know where to find our heritage sites
Where is Red River North?
The Red River North area North of the City of Winnipeg, Manitoba, Canada
News & Events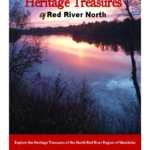 Explore the heritage treasures of the North Red River region of Manitoba. Travelling the North perimeter of Winnipeg, the East Beaches of Lake Winnipeg, Rural Municipalities of St. Clements, St. Andrews, East St. Paul & West St. Paul and the City of Selkirk. Developed by the RM of St. Clements Heritage Committee. Download View Online
Read more
Our Red River North Heritage group has been busy and has just finished a new series of short videos connected to interesting sites in the RM of St. Clements. Be sure to check them out!
Read more
This site will feature the stories of many of the people and families who have made a significant contribution to St Clements.
The R.M. of St Clements established the Heritage committee in 1998 to advise council on heritage matters and to promote, preserve and protect local heritage.