Discover the rich heritage of one of the oldest settled areas of Manitoba, Canada.
You can get between 26% and 42% in tax credits for your charitable donation towards various projects in the community! The East Beaches Heritage Wing for example is a fantastic place to discover some history in the northern parts of the Red River North region, but their displays and exhibits would not be possible without support and funding.
This channel contains interviews of residents who grew up in families that worked in many of Manitoba's prominent early industries, videos of the region's best known sites, and more.
Looking to get out of the house?
Now is the perfect time to check out some of the terrific heritage sites that are close to home! These sites are laid out and easy to locate with the provided map.
Want Some Great Digital Reading Material?
Dive into 3 of the region's most iconic books right here on our website! You can download them in small sections to have access and read them whenever and so you don't have to take on too much at one time.
We have added interactive buttons on many of our posts. By clicking on them, you will be able to find the location of the heritage site on Google Maps. Specially marked buttons will direct you to on of our favourite related sites that will allow you to find out more about the site you are looking at. See if you can find them!
Has your family made a significant contribution to the R.M. of St. Clements?
Would you like to share your story on this website so it will be available to future generations?
If so, please share it with us!
Heritage Treasures of Red River North
Explore the heritage treasures of the Red River North region of Manitoba. Travelling the North perimeter of Winnipeg, the East Beaches of Lake Winnipeg, Rural Municipalities of St. Clements, St. Andrews, East St. Paul & West St. Paul, and the City of Selkirk. Developed by the RM of St. Clements Heritage Committee. Download available online.
Check out all of the new additions we've made to the website lately! We've recently added exciting guides and maps for local walking and driving tours, and more information on Indigenous communities and their integral contributions to the area.
We have created a contact page where you can get in touch with us about what you'd like to see modified on our website or in the community, or anything that sparks your interest! We are always looking for feedback from viewers and members of our community, so don't be shy.
A Brief History of Red River North
20,000 years ago: It lay beneath a sheet of ice almost 4 kilometres thick
11,000 years ago: It was at the bottom of glacial Lake Agassiz
10,000 years ago: The first humans arrived as the lake receded
230 years ago: European fur traders arrive, followed shortly by settlers
Present: St.Clements has over 10,000 full-time residents and 5,000 cottagers
Where is Red River North?
The Red River North area North of the City of Winnipeg, Manitoba, Canada.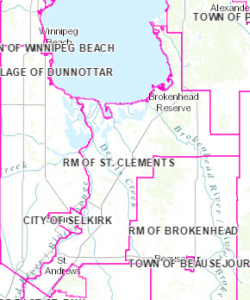 Sharing inspiring stories, history, and accomplishments of our Manitoban Pioneers.