The Selkirk Generating Station is the second largest thermal-electric generating station in Manitoba. It is located on the east side of the Red River, adjacent to East Selkirk, about 40 km (24 miles) from Winnipeg. It has a thermal capacity of some 132,000 kilowatts while its gas turbines generate about 25,000 kilowatts.
Construction began May 23, 1957 and the plant was officially opened October 19, 1960 by the Hon. Duff Roblin, then Premier of Manitoba.  The General contractor was Pearson Construction of Winnipeg while the consultants were the Ewbank Partners of Toronto.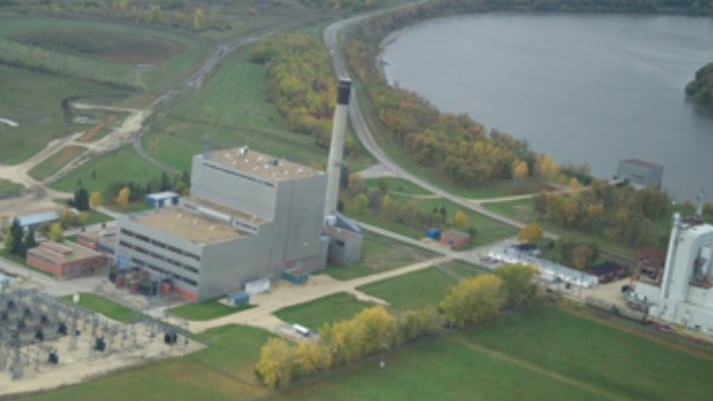 The 2 wells drilled on the site are over 73 m or 240 feet deep and supply the necessary water for domestic and bearing cooling purposes as well for the boilers. The 2 Gas Turbines are manufactured by Brown-Boveri with a capacity of 12,500 kw per unit. In 2002 the plant underwent a $30 million conversion from coal to natural gas.
The plant has 7 transformers and its stack measures about 76 m in height or over 250 feet. On average, Manitoba Hydro generates approximately 95 per cent of its electricity from hydraulic resources. The remaining 5 per cent is provided by a combination of thermal resources and electricity imports. The Selkirk plant contributes to Manitoba Hydro's thermal resources.
Selkirk Generating Station is a valuable asset to Manitoba Hydro. The station is a clean, low-impact thermal station that can be relied upon to produce energy in times of constrained supplies from primary generation sources. Since converting from coal-fired operation to natural gas-fired operation, Selkirk is considered among the lowest emitting thermal power plants in Canada (Manitoba Hydro, 2013).