The Selkirk Generating Station is the second largest thermal-electric generating station in Manitoba. It is located on the east side of the Red River, adjacent to East Selkirk, about 40 km (24 miles) from Winnipeg. It has a thermal capacity of some 132,000 kilowatts while its gas turbines generate about 25,000 kilowatts.
Construction began May 23, 1957 and the plant was officially opened October 19, 1960 by the Hon. Duff Roblin, then Premier of Manitoba in response to increasing power needs.  The General contractor was Pearson Construction of Winnipeg while the consultants were the Ewbank Partners of Toronto.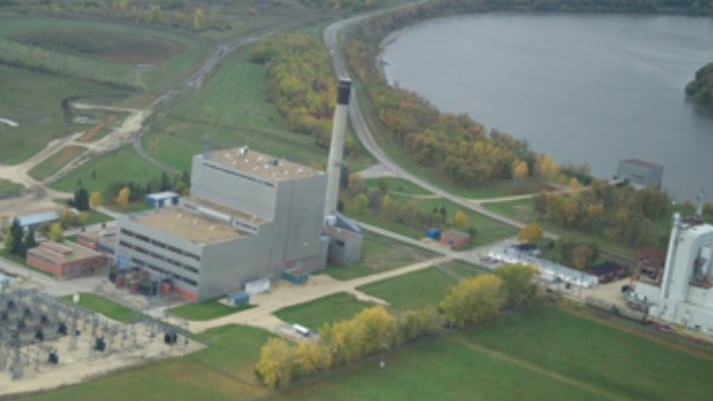 The 2 wells drilled on the site are over 73 m or 240 feet deep and supply the necessary water for domestic and bearing cooling purposes as well for the boilers. The 2 Gas Turbines are manufactured by Brown-Boveri with a capacity of 12,500 kw per unit. In 2002 the plant underwent a $30 million conversion from coal to natural gas.
The plant has 7 transformers and its stack measures about 76 m in height or over 250 feet. On average, Manitoba Hydro generates approximately 95 per cent of its electricity from hydraulic resources. The remaining 5 per cent is provided by a combination of thermal resources and electricity imports. The Selkirk plant contributes to Manitoba Hydro's thermal resources.
Selkirk Generating Station is a valuable asset to Manitoba Hydro. The station is a clean, low-impact thermal station that can be relied upon to produce energy in times of constrained supplies from primary generation sources. Since converting from coal-fired operation to natural gas-fired operation, Selkirk is considered among the lowest emitting thermal power plants in Canada (Manitoba Hydro, 2013). It continues to operate just east of the Selkirk Bridge.
The Selkirk Generating Station geocache site is located near Selkirk, Manitoba, Canada at N 50° 08.056 latitude and W 096° 51.361 longitude. If you find the geocache and scan the QR code inside of it, it brings you here to learn more. Watch all of our videos on our YouTube Channel. Other heritage content can be found on our Red River North Heritage Youtube channel.
Transcription:
The Selkirk Generating Station was constructed in answer to the rapidly growing power needs of Southern Manitoba. Officials estimated that, over the next 15 years from its opening, there would be a 250 percent increase in demand for electricity.
At a cost of 28 million dollars in 1960, the station was a sizeable accomplishment. Its official opening on October 19 brought Premier Duff Roblin out to push a button and start up the first segment of the plant.
A celebratory dinner was held after the on-site formalities. Around 150 dignitaries and officials gathered to mark the occasion. A few came from overseas in Britain. Selkirk's mayor, Ben Massey, and St. Clements reeve, Max Dubas, thanked the project developers for their service to their community.
Roblin offered remarks with his characteristic visionary flavour. He saw power as a hallmark of "industrial, economic, and indeed, social progress". These were running themes in his program.
He also affirmed that the new generating station would be an homage to Manitobans, both past and present, who had contributed to the spread of access to electricity in the province.