The Rowley house stood on CIL road, near the CIL Dynamite Plant. It was a large, 6-bedroom house with a lovely well and a large garden, and was owned by a man called Alexander Butler Rowley. AB Rowley came to Canada in 1885 as a volunteer to settle the Saskatchewan Rebellion.
Though trained to be a lawyer in London, A. B. Rowley spent his life as a pillar of the community just east of Selkirk in St. Clements. He moved to Manitoba in 1887, and married the year after. He and his wife Margaret had 13 children together.
Their first two houses burnt down, and they bought the home where they lived out the rest of their days. The story is that they had a very long kitchen, and they held dances there and everyone from the district came and danced. They replaced the floor three times in that room because they "danced them out".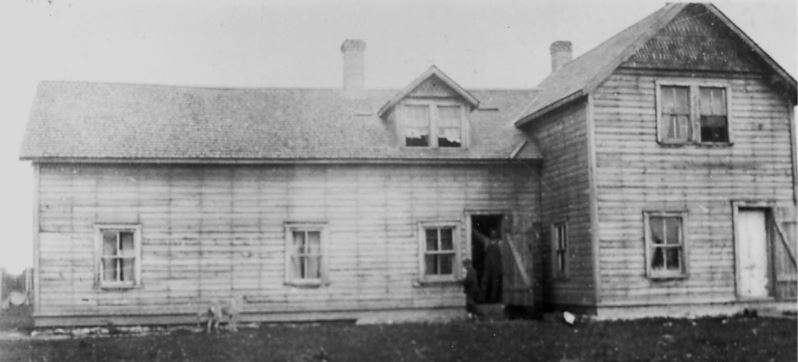 As one of the only lawyers in the area, Rowley was a very important person in St. Clements. He is considered to be one of the pioneers of the RM of St. Clements because he helped to shape the RM in the early years. He was the solicitor for the municipality, and an auditor. He formed the School District of Kitchener at the request of the Dept. of Education, and he also named East Selkirk's new school at that time, Happy Thought.
He named it Happy Thought because he had stressed that education should be one of the happiest thoughts, as was a new building to educate our children in. Mr. Rowley was also instrumental in solving the vicious hearings and disputes about the school, and so he also said that since the dispute in the village had been long and bitter it should end on a "happy thought". And thus the school was named.
Rowley was also asked by the RM of St. Clements to make the Ferry road usable. He had the road to the river dug down deeply and filled it with granite boulders, huge ones found around the district. Since then the road has always been usable even though it floods almost every year.
Rowley House geocache site is located near East Selkirk, Manitoba, Canada at N 50º 07.372´ latitude and W 96º 51.618´ longitude. If you find the geocache and scan the QR code inside of it, it brings you here to learn more. Watch all of our videos on our YouTube Channel. Other heritage content can be found on our Red River North Heritage Youtube channel.
Transcription:
Alexander Butler Rowley was born in Penryth, Cumberland in 1855. The family farm was in the lake district, an area that inspired the lake poets William Wordsworth, Samuel Taylor Coleridge, and Robert Southey. The author Beatrix Potter and the painter John Ruskin were also associated with the area.
Rowley's father was killed in a train accident when he was only 16. As the oldest son, he took charge of the family's livelihood.
He had a sharp memory and inquisitive mind, and went on to become a lawyer in London. This life, however, was not to be.
His talents would be put to use in a far, distant corner of the empire. In 1885, Rowley went to Canada. As a volunteer, he led a party of men from Montreal to Red River, over Lake Winnipeg, and up the Saskatchewan River in York boats to Batoche, to help put down the North-West Rebellion.
Two years later, he followed his brothers and left England for good. In East Selkirk, he met and married Mary McIvor and started a family with 13 children.
Though they lost three houses to fire, they prospered nonetheless. Rowley became a respected figure in the area on many accounts. He was an active, capable man with varied pursuits.
His daughter Haley wrote that he had a long list of achievements including a law degree, service as municipal auditor, certificates to practice veterinary medicine, training in the expert art of boxing, practice as a cartoonist, time spent as an accountant, work as a legal advisor, and as having assisted in incorporating schools and local government.
Rowley died in May of 1943 at the age of 87, his life a commendable story of Canadian success.