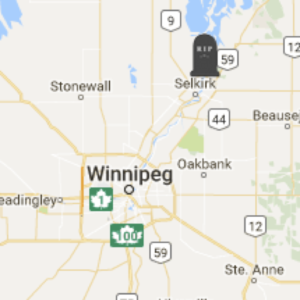 Site Location (lat/long): N50.18250, W96.83987
denoted by symbol on the map above
Location: River Lot 212, 8 Stone Church Road, East Selkirk MB, R0E 0M0, Canada
Contact Person: Wendy and Tom Serger (Caretakers)- 204-482-3319 or 204-485-7876
Facilities: Toilets and water pump located North of the Church
St. Peter's Cemetery Student Activities:
<h5>Download Student Activities PDF</h5> or <h5>Download Student Activities Word Document</h5>
Why St. Peter Dynevor is Historically Significant
St. Peter Dynevor was built between 1852–1854 and is all that remains of the First Nations community at St. Peter, which was the first Anglican mission of its type in western Canada. It is one of the west's oldest stone churches and was designed by Rev. William Cockran and built by parishioners using local materials.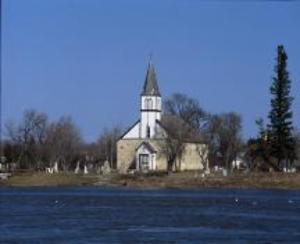 Cockran began the St. Peter mission in the early 1830's on land reserved for First Nations since the late 1810's. His goal was to convert the Saulteaux and Cree to Christianity and teach them how to adapt to a farm economy.
He was assisted by Chief Peguis, a respected Saulteaux chief whose people had helped the Scottish colonists survive in the Red River Settlement but whose own way of life was affected by the colony's expansion. The mission had some success and persisted until the early 1900's when the reserve was surrendered and its First Nations occupants relocated.
The church is still intact and is used seasonally. The surrounding cemetery contains more than 3 000 gravesites including that of Chief Peguis. It is a lasting link to the only First Nations parish in the Red River Settlement.
St. Peters Dynevor Cemetery Stories
Cemetery Story 1- Chief Peguis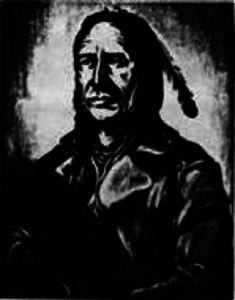 1774 to 1864
There are very few photographs of Chief Peguis and mostly oral history of his arrival in present day Manitoba, but it is widely known that he was a highly regarded chief by both his First Nations people and the fur traders, governing officials and first European settlers of the Red River Valley.
Who was Chief Peguis?
Chief Peguis was born around 1774 in present day Ontario close to Sault Ste. Marie to a French fur trader (coureur des bois/voyageur and a Saulteaux (Ojibway) mother. In around 1790, with his Saulteaux tribe he moved west to what is now Minnesota and then north to an area north of present day Selkirk, Manitoba. Chief Peguis and his people were welcomed to live along side the Cree and the Assiniboine tribes living in the area. Living in the Netley Creek region, Chief Peguis established a friendly relationship with the advanced party of the first Selkirk Settlers of 1812.
How did the First Nations people aid and influence the Red River Settlement in the 1800s?
In 1812 Chief Peguis was instrumental in signing a treaty with Lord Selkirk (the fifth Earl, Thomas Douglas of Scotland) to establish settlement lands for Scottish immigrants in the Hudson's Bay Company – Red River settlement of present day
Manitoba. Chief Peguis and his wives helped the settlers through very difficult times showing them ways to survive in a sometimes harsh winter climate.
In 1813 Governor Miles Macdonnell, leader of the new founded Red River colony, exchanged gifts with Chief Peguis in a friendship ceremony forming a bond of respect and trust.
Chief Peguis also invited the settlers to join the annual bison hunts south to what is now Pembina, North Dakota. Here they would make a winter settlement, live off the bison, utilize and prepare all parts of the bison until early spring when they would return to the Red River area again.
Chief Peguis was described as a "master diplomat" in peaceful negotiations between the rival fur trading companies of the area. Chief Peguis had an honourable relationship with the Hudson's Bay Company and was able to assist settlers when the North West Company (Nor'westers ) threatened the settlement. In 1816, Governor Semple and 20 of his men were killed by the Nor'westers supporters at the Battle of Seven Oaks in one such threat over fur trade issues. Chief Peguis, in sympathy, transported the dead men back to Fort Douglas, the settlers' headquarters. He then provided for the remaining settlers by relocating them to a safer area. Among these settlers was one woman, who would be the future grandmother of Louis Riel, Marie-Anne Lagimodiere,. She along her children were given refuge by Chief Peguis.
In 1817 a letter was written by Lord Selkirk describing Chief Peguis as a "steady friend of the (Red River) Settlement" and was "to be treated with favour and respect" by the officials of the Hudson's Bay Company as well as all " friends of peace and order." Chief Peguis faithfully kept this letter to hand down with pride to his descendants.
What changes evolved in the lives of Chief Peguis and his people?
In 1825 Chief Peguis met with Reverend William Cockran, the Anglican missionary residing in the area of the Red River Settlement. Rev. Cockran encouraged Chief Peguis to start the (first in Western Canada ) permanent Aboriginal agricultural settlement in the area. The settlement was started in 1833 and its first permanent church – St. Peter Dynevor was completed by 1854. Living in the settlement, at about the age of 65 years, Chief Peguis was baptized with the given name of William King converted to Christianity.
At the cemetery look for markers that tell information about Chief Peguis.
Chief Peguis died on September 28, 1864 and was honoured by a Christian burial accorded to the highest of dignitaries.
St. Peter Dynevor Cemetery Online Resources
Red River North Heritage
https://redrivernorthheritage.com/st-peters-church-dynevor/
Manitoba Historical Society
http://www.mhs.mb.ca/docs/sites/stpeterdynevor.shtml
Cemetery Projects – Headstone Names
http://www.geneofun.on.ca/cems/MB/MBSTC1081
Chief Peguis Online Resources
Street Tales – short video on the life of Chief Peguis
https://www.youtube.com/watch?v=rbxxz8SfEJ0
Manitoba Historical Society Memorable Manitobans: Peguis (c1774-1864)
http://www.mhs.mb.ca/docs/people/peguis.shtml
Red River Ancestory
https://www.redriverancestry.ca/PEGUIS-1774.php
Upper Fort Garry Stories Last Will and Testament of Chief Peguis
http://www.upperfortgarry.com/story/
Cemetery Story 2- Descendants of Chief Peguis- Amy Louise Sinclair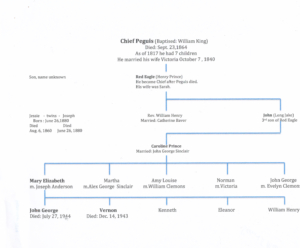 Amy Louise Sinclair was born on October 4, 1906 on River Lot 160 in the Parish of St. Peter on the east side of the Red River. She was a great – great – granddaughter of Chief Peguis.
Amy attended a school, north of her home, called Trindle Chapel School. Then she transferred to Peguis School on the west side of the river. After completing Grade 11 she worked for several years in mission schools and hospitals before working in a sanatorium north of Selkirk called Dynevor Hospital. She married Bill Clemons in 1942.
She joined the staff of the Manitoba Friendship Centre in Winnipeg as a community worker and stayed there for nearly ten years. She then moved back to Selkirk and became the first Executive Director of the Selkirk Friendship Centre. She remained there until her retirement in 1973.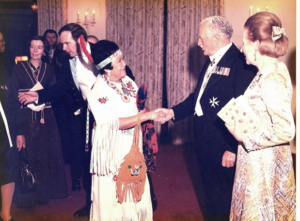 Amy Clemons meeting the Governor General of Canada
Amy received many awards from her community work. She was named an Honorary Citizen of Selkirk by Mayor Frank Malis, on December 28, 1972. This award included a doeskin dress and beaded accessories that were handmade to her specifications.
She was named Woman of the Year by the Women's Sales and Advertising Club in recognition of her work at the Selkirk Friendship Centre and a nursery was named after her.
In June of 1973 she was invested into the Order of Canada by Governor General Roland Michener. Her sister Mary Anderson accompanied her to Ottawa to receive the award ad Amy wore her white doeskin dress.
As Selkirk celebrated its 100 year anniversary in 1982, Amy was one of several people recognized at the Mayor's and Councillors Reunion.
Amy passed away in 1989.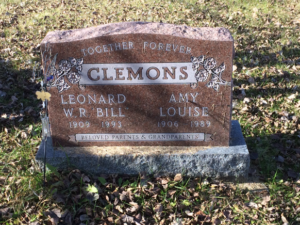 Mary Elizabeth Sinclair (Anderson)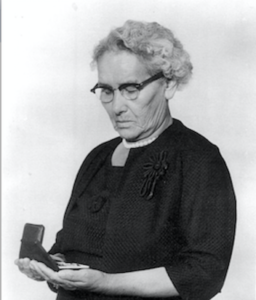 Mary Anderson and two Silver Crosses
Mary Elizabeth Sinclair was born on June 28, 1898; she was the eldest child of John George Sinclair and Caroline (Prince) Sinclair and Amy Sinclair's sister and Chief Peguis' great – great – granddaughter.
She married Joseph Thomas Anderson and they had six children, five sons and one daughter. Two of their sons were killed in World War II:
Vernon was only 19 when he was killed on December 14, 1943 while fighting in Italy with the Princess Patricia's Canadian Light Infantry.
John George died on July 21, 1944 at the age of 24 while serving in France with the Queen's Own Cameron Highlanders of Canada.
Both are buried in Europe, but stones have been placed in front of St. Peter Dynevor Church in their memory.
In 1971, Mary Anderson was chosen to be the Silver Cross Mother who would represent all Canadian mothers who had lost sons or daughters in war. She travelled to Ottawa to lay a wreath on the cenotaph on Remembrance Day. While there, she attended a reception at Government House hosted by the Governor General, His Excellency Roland Michener. Mary was accompanied by her sister, Amy Clemons.
Mary died on December 2, 1998 and is buried in St. Clements Cemetery.
Memorial (Silver) Cross Mother
In 1971 Mary Anderson was selected to be the Silver Cross Mother. This award has been granted since 1919 to loved ones of Canadian Armed Forces personnel who died in service or whose death was caused by their service. It is granted by the Government of Canada and is often called the Silver Cross.
The crosses are sent to mothers and wives who qualify and, and can be worn by the recipients at any time. The cross is engraved with the name, rank and serial number of the person who died.
Today, a National Silver Cross Mother is chosen to represent the mothers in Canada at the National Remembrance Day Ceremony in Ottawa. At the ceremony, the Silver Cross Mother places a wreath at the base of the National War Memorial of country.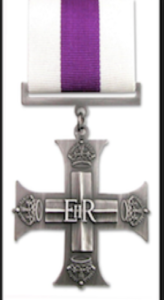 The Silver Cross
Canadian War Veterans Headstones
It is the responsibility of the Commonwealth War Graves Commission to officially honour Canadian servicemen and women by name, either on a gravestone or, if the location of their remains is unknown or inaccessible, a memorial plaque of some sort.
Headstones of First World War veterans who died after August 1921 are the responsibility of the countries for which they fought. Until 1951 in Canada, those servicemen and women were provided markers known as Privy Council headstones, authorized by an order-in-council from that body. Otherwise identical to Commission headstones, their unit is inscribed in a slightly different format.
In 1951, Veterans Affairs Canada took on the responsibility of providing veteran's headstones. Similar in size, theirs have no maple leaf, but instead have a cross at the top.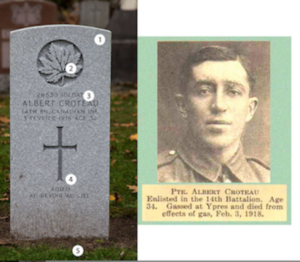 1. the stone, 2. the emblem, 3. written in stone rules, 4. personal and optional 5. underneath is his picture and the text under the picture
Two Types of Veteran Headstones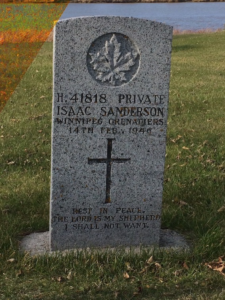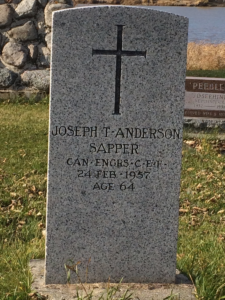 Cemetery Story 3- The Nile Boatmen 1884-1885
In the 1880's, the southern part of Egypt, Sudan, was being threatened by a man called the Mahdi, who thought he was a representative of God. He encouraged the Sudanese to become independent from the rest of Egypt and with his followers began to attack the Egyptian troops in the Sudan.
Egypt was a part of the British Empire and so Britain was drawn into these affairs in order to protect the Suez Canada and the Red Sea trade route to India.
General Charles "Chinese" Gordon was sent to Egypt to oversee the withdrawal of the Egyptian Garrisons and to put in place a stable government in Sudan. But, before he could accomplish this, Mahdi's followers attacked the city of Khartoum. In an attempt to save Gordon, Britain decided to send General Garnet Wolseley and his forces to the rescue.
General Garnet Wolseley of the Canadian Red River Expeditionary Force had been sent into Manitoba after Riel's Resistance in 1869-70. In 1870, he had used Indigenous and French Canadian Voyageurs to travel by water from Thunder Bay to the Red River. He had been impressed with their ability to navigate difficult waters.
With these voyageurs in mind, Wolseley decided to travel by river in Egypt rather than trekking overland through the desert.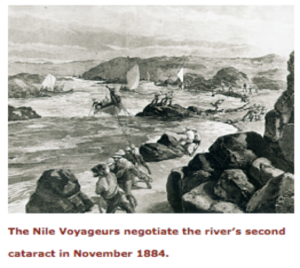 This expedition marked the very first time that Canadian soldiers were sent overseas.
The following newspaper ad was used to recruit men.
Wanted Immediately
50 MEN
to accompany
Gordon Relief Expedition
In Egypt to take charge of small boats
On the rapids of the Nile
Must be good boatmen. Men who were
In Red River Expedition preferred.
Wages from $30 to $40 per month and
expenses. Applications will be received
By the undersigned until the
6th Prox. Expedition leaves Quebec for
Liverpool on the 13th Inst.
W.N. Kennedy
6th Prox. Expedition leaves Quebec for
Liverpool on the 13th Inst.
W. N. KENNEDY.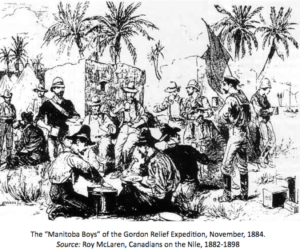 The following Aboriginal men from Manitoba served on the Expeditionary force:
Atkinson, John Henry. (1854) John was born at St. James in 1854, the Metis son of
John Atkinson and Margaret Flett.
Bouchette, George A. George was likely the Metis son of John Bouchette and Eliza
Desmarais.
Cochrane, Adam: (1849-1933): Adam was from the St. Peter's Reserve, band member #113. He served on the Nile Expedition under Chief William Prince.
Cochrane, Alex: (1845-1927): Alex was from the St. Peter's Reserve, band member #
116. He served on the Nile Expedition under Chief William Prince.
Daniels, James. A James Daniels of St. Clements, MB filed for Half Breed Scrip.
Hardisty, Richard: (1862-1885) Richard Hardisty was a Metis, born June 6th, 1862, the son of William Lucas Hardisty and Mary Ann Allen, grandson of Richard Hardisty (c.1790) and Margaret Sutherland. He served on the Nile Expedition and upon his returnwas sent with Middleton's troops to Batoche. He died on May 12,1885 at Batoche. (Private in the 90th Battalion). Middleton reported:
Our total loss since Saturday last is dead, James Fraser and Richard Hardisty of the 90th, Lt. A. W. Kippen, of a surveyors Corps, Lt. W. Fitch, and Private Moore of Grenadier's Corps. E.T. Brown, of Boulton's Horse. Gunner William Phillips, of A Battery, and Captain John French of Seventh.
Henderson, Richard: Richard was from St. Peter's Reserve. He served on the Nile
Expedition under Chief William Prince. The contingent sailed from Montreal on Sept. 14,1884, bound for Alexandria in Egypt. The Canadian contingent arrived at Alexandria, Egypt, on Oct. 7, 1884. Prior to its arrival, the contingent recorded its first loss, a Manitoba Ojibwa named Richard Henderson (also known as Richard Burgess) who was buried at sea after succumbing to an illness on September 26, 1884.
Hodgson, Henry Rosser: (b. 1861) A Metis, born November 17, 1861 at St. Andrews,
the son of John Hodgson and Catherine Davis, married Charlotte Stevenson (1880) then Margaret McDonald (1885).
Hope, William J.: William Joseph Hope received a share in a Supplementary Half Breed Grant (Scrip 4221). There was also a William Hope who was a member of St. Peter's Reserve, band member #175.
Kirton, Charles: (b. 1863) Charles was born at Poplar Point in 1863, the son of Betsy
Boucher and Peter Kirton (both Metis).
McCallum, N. There were Metis McCallum families at Red River and Green Lake,
Saskatchewan.
McDonald, Alexander: (b. 1853) Alexander was the son of John McDonald and Nancy
Ferguson, a Half-Breed Scots family living at St. Andrews.
McDonald, Donald: (b. 1860): Donald was the son of John McDonald and Nancy
Ferguson, a Half-Breed Scots family living at St. Andrews.
McDonald, John: (b. 1856) John was the son of John McDonald and Nancy Ferguson, a Half-Breed Scots family living at St. Andrews.
McDonald, William: (b. 1855): William was the son of Alex McDonald and Ann Tait, a
Half-Breed Scots family living at St. Andrews.
McKay, Edward. Edward was born at St. Andrews on Nov. 14, 1847, the Metis son of
John and Mary McKay.
Moore, John R.: (b. 1860) A Metis, John Moore lived at the St. Peter's settlement.
Pratt, John: John Pratt was a member of the St. Peters Reserve. He served on the Nile
Expedition under Chief William Prince.
Pratt, Thomas: (1868-1891) Thomas Pratt was a member of the St. Peters Reserve. He served on the Nile Expedition under Chief William Prince.
Prince, William: William was a Chief from the St. Peter's Reserve, he is believed to
have been a son or grandson of Chief Peguis. He was hired as a foreman for the Nile
Expedition.
Settee, George: We found a George Settee band member # 514 of St. Peters Reserve and another George Settee who had Half-Breed Scrip claim 4367 and 2283 (File HB 5109). These may be two different people or someone who left Treaty Status and took Metis Scrip.
Smith, Joseph. (b. 1860) Joseph was born on May 13, 1860 at St. Andrews, the Metis
son of William Smith and Charlotte Mowat.
Snyder, William Henry. William and his wife Jane Mary Snyder lived at St. Peters. She took Metis scrip. Their Metis son James Valentine Smith was killed fighting in World War I on May 24, 1917. He is buried at Vimy, France.
Reference:
Stacey, C.P. Records of the Nile Voyageurs, 1884-1885: The Canadian Voyageur
Contingent in the Gordon Relief Expedition. Toronto: Champlain Society, 1959.
Compiled by Lawrence Barkwell
Coordinator of Metis Heritage and History Research
Louis Riel Institute
Nile Boatmen Online Resources
Canada's History: Voyageurs on the Nile
http://www.canadashistory.ca/Explore/Fur-Trade/Voyageurs-on-the-Nile
LEGION Canada's Military History Magazine: Voyageurs on the Nile
https://legionmagazine.com/en/2004/01/voyageurs-on-the-nile/
Manitoba Historical Society: From the Red to the Nile: William Nassau Kennedy Contingent of Voyageurs in the Gordon Relief Expedition, 1884-1885 by Michael Bumsted
http://www.mhs.mb.ca/docs/mb_history/42/kennedyvoyageurs.shtml
Ontario's Historic Plaques
http://ontarioplaques.com/Plaques/Plaque_Ottawa18.html
Today in Ottawa's History: The Nile Voyageurs
https://todayinottawashistory.wordpress.com/2016/02/13/the-nile-voyageurs/