Members of the Rough, Tough, and Ugly group were: Jack Cybulski, Mike and George pawluk, Geo. Homenick, Bill Semenchuk, Metro Dalebozik, Mark Chernetski, Mike Peake, Bill Pihulak, Bill Tesch, Walter Lazaruk, Pete Huculak, Douglas Nelson, Jake Davis, Matthew Babiski, Fred Babiski, Bill Babiski, peter Kuhn, Sam Darichuk, John Darichuk, Peter and Mike Kreviazuk, John and Rewucki's, Jim, Matt and Andrew to name a few. There were a lot of Rough, Tough, and Ugliest, We also belonged to the Community Club, which met at the old Gonor Hall. Later, the Gonor Hall was switched into a school for the smaller children. The Rough, Tough, and Ugliest never did any damage, but anyone looking for trouble, got it. We were a baseball club, a hockey club, and we held dances nearly every Saturday night. Our club just had lots of fun, and we met a lot of people. Now people have lots of money, and there's no fun, like we had before.
We used to put on a show for the Winnipegers when they drove over the Lockport bridge. There was no fence around the bridge or the power house, and every summer we would dive off the bridge, and push each other into the river. Some of the Winnipeg women would scream quite loud when they saw us falling off the bridge.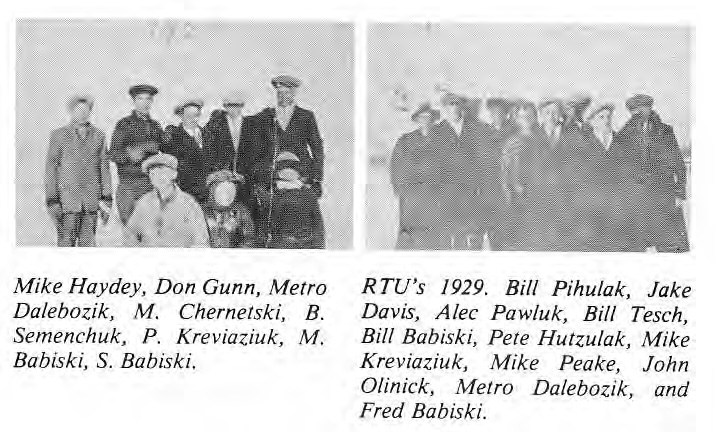 One Sunday, Mike Pawluk drove to Lockport from Winnipeg when he seen the Rough, Tough, and Uglies diving from the bridge. He stopped his car, and crawled down the frame of the bridge and then he went down the steps on the south side of the bridge and said to us, "Do I look as stupid as you fellows, when I dive in the water and show-off?" Jake Davis said, "What do you mean stupid?" Mike said, "You really look stupid from on top of that bridge. " Mike had come down to the water's edge wearing a blue serge suit, and he thought we were just kidding when Jake suggested that we throw him in. Sam got a hold of one leg and one arm, and Jake had a hold of the other side, Mike kept laughing, thinking, we would soon put him down. Sam and Jake yelled out One, Two Three … and let him go. Mike was still laughing, bur he stopped laughing when we let go of him. To get back at us, Mike stayed under the water as long as he could, he even let go of the air he had in his lungs. The women had gathered on the bank and when they saw the bubbles in the water, they started to scream, "He's drowning". They were scared, and we started to worry too, because we did throw him in with his clothes on. Finally, Mike came to the top, spitting water, and he swam to the bank. He was swearing at us, he was so mad, and at that, the women started laughing at him.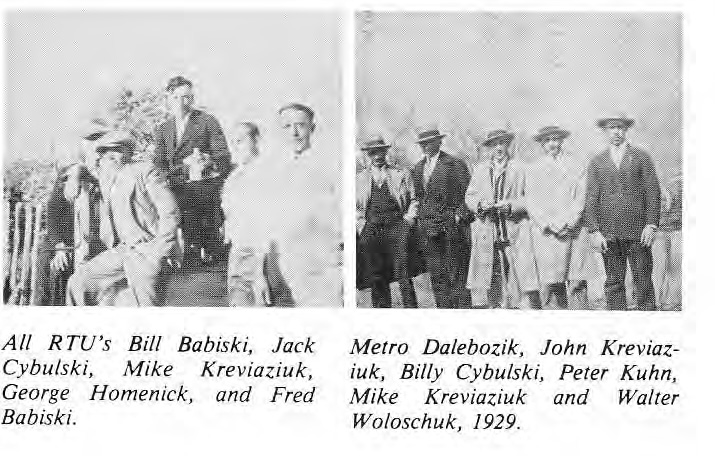 At a different time, while the men were pouring cement for the locks, a few of the Rough, Tough, and Uglies would get on the roof of the house where the blacksmith shop was, the blacksmith shop had an opening in the roof, to put the drill through to temper the steel again. The men working on the locks did not have electric lights, but they had big bars with carbine burning in the center, to light up where they were going. A few of us, Rough, Tough, and Uglies, used to go at night, to this shop, get on the roof, and go down into the shop through the hole in the roof and we would steal chunks of carbine. As long as we covered these chunks of carbine with snow at night, the carbine would emit a good light. One Saturday night, the Rough, Tough, and Uglies were taking some carbine, when they got scared by a night watchman. They climbed up the ladder, through the hole in the roof, and then they slid down the roof in the snow. They landed in the snow below the roof, right where they had shut the water off, where they were going to pour cement. If they had landed in the snow, two feet over, everyone would have gone under the ice. That scared everyone who went on that escapade, into gratefully walking home, without any kidding around on the way.
The RTU's used to love playing baseball against the Rolling Mills in summer and the hockey games were completed in winter. In fact, we were so good we won nearly every game we played regardless of what sport. We used to all gather under Mike Peake's light at the Lockport corner and plan some devilment or other. Sometimes it got out of hand, but most of the time it was good, clean fun.
Little kids use to follow us around and imitate us, they were called the little RTU's.
Billie Homenuik used to drive and bus our ball team for games around the countryside. We were in great demand, you know, everyone wanted to try and beat us, we were that good. I think it was that homebrew we used to carry under the driver's seat on the bus. Billie was the best driver a ball team ever had. We loved that old bus. When we were playing ball we got better as the game progressed.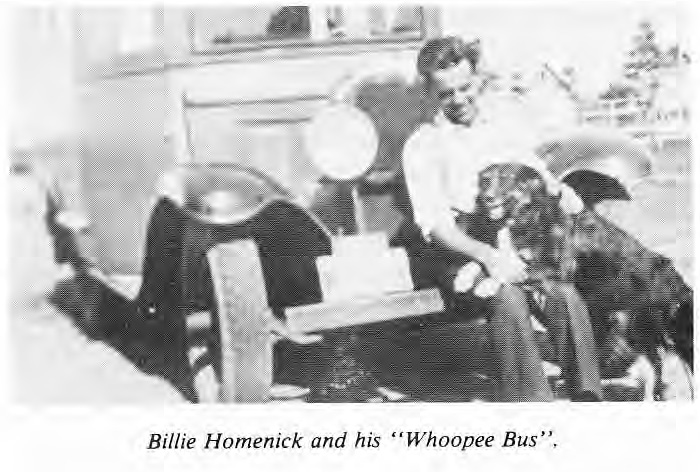 We controlled the dances, especially when outsiders were after the Gonor and other girls in the district. These guys had to pass a rigid inspection and sometimes they didn't make it. Then on occasion we were known to crash the odd party or dance and sometimes came uninvited to a wedding celebration, or what have you.
Yes, there are very few people who don't remember some of our escapades, the Rough, Tough, and Uglies of the east side. We especially enjoyed beating Selkirk at things. When Selkirk challenged a team from the east side you can pretty well bet it was well reinforced with RTU members, just to make sure.
We did a lot of fun things along the Red River and we sure made use of the Lockport corner. That was our stomping grounds. We scared a few people some of the time but we were really a good bunch of good natured guys who enjoyed a lot of good, clean fun. We were really a club, that's all, and my how we enjoyed dancing, sports. and a Iittle scrap now and again.
When we knew we had people's attention we hammed it up a lot and put on a little show. We always had homebrew, nearly everybody made it, so it was easy to come by.
A lot of the RTU's are gone now, very few of us left. Peter Kuhn still lives on the west bank and Sam Darichuk, that's me, on the east bank here. Jake Davis went not too long ago. Jake was a great guy and my how he could dance and play the fiddle. Music played a great part in our lives. Mabel, his wife, was a little bit of a thing, and my how she could dance. They ran Mary Gunn's Restaurant on the east bank for some years Before that, Mabel and her dad, Geo. Donald, ran a bus service, and Geo used to ferry people and rent out boats to fishermen.
The RTU's never went looking for trouble, like I said, but by golly it followed us around sometimes. We never backed down though. Guess we had quite a reputation Sometimes when something happened, people would say "must have been those darn RTU's" at it again. A lot of the time it was someone else, and we got the blame. Guess it's like that still sometimes. Billie Homenuik is still living and looking good, drove for the schools for a long time, I hear. He was a good driver, and we adopted him as an RTU, especially with the bus. We rode in style The Homenik's had the first rural bus line in the province I think, and were real pioneers at it. They ran Henderson Hwy., Lockport, Tyndall, Garson, Beausejour and even up to Grand Beach. They also had another route on the West Side.
None of us had very much money and we made our own fun, never hurt anybody and that is about all I have to say about the RTU's, we were really like a sports club I guess you would say. We didn't have a lot of vehicles until later, although Peter Kuhn had a 1922 Nash and Mike Peake won a car in a raffle. They were the rage of the Lockport corner at the time. We would all crawl in these vehicles till we were hanging out the windows, and still find room for one more.
Peter Kuhn has submitted a few photographs of the RTU'S (some of them) and Billie Homenuik shares the photo of the old bus with you.
Peter Kuhn was a school teacher, married a local girl, we all married local girls. Mike Peake was a great guy, he owned the Lockport corner at one time. We called it the "Yukon Corner" because there was a "Uke" on every corner.
By: San Darichuk/slh