The 1st. St. Clements Brownies and Guides both received their Certificate of Registration on November 25, 1974. Both of these groups were sponsored by the East Selkirk Recreation Association from their onset.
The Brownies have continuously operated since their onset with Bernice Perrin as Brown Owl from November l974 to May 1982 when she moved from the province. Rose Starodub acted as the first Tawny Owl and Helen Starodub as the first Snowy Owl. There were 35 Brownies ages 7-10 years. As of September 1982, this group still meets on Wednesday evening at Happy Thought School with Lillian Johnson as Brown Owl, Adeline Sutherland as Tawny Owl, and Donna Kachkowsky as Snowy Owl.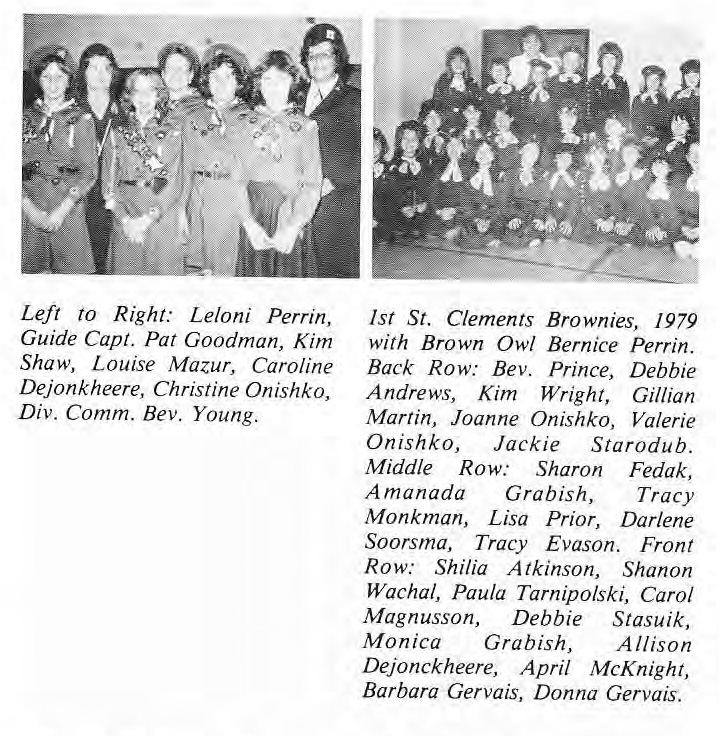 The Girl Guides Company when formed in November 1974 operated with Evelyn Chjasson as Captain and Marlene Murray as Lieutenant with 23 girls ages ll-14 years. This company only operated for one year then closed because of lack of leader,. Some of the girls continued their Guiding experiences with the lst Selkirk Co. The Girl Guides' Company reopened in East Selkirk in October 1977 with Pat Goodman as Captain and as of September 1982 it is still in operation with Gloria Wright as the Guider in Charge.
Every year the Brownies and Guides do many useful thing in the community. Every Remembrance Day rhe1, in full uniform, take part in the school services. At Christmas they go caroling at one of the senior citizens homes in Selkirk and often take treats for the residents. ln the spring they take part in the village clean-up blitz. In April they join with other Brownies and Guides in the division to take part in a Penny Carnival with total proceeds of the carnival going to charity. ln 1977, the "international Year OI The Child,', this group worked extra hard by making and selling porgies and a total of $201. 15 was donated to the Pediatric Ward of the Selkirk General Hospital.
In July the Brownies and Guides like to join with the brothers in Beaver. Cubs and Scours and enter a large combined float in the Selkirk Parade.
By: Pat Goodman