Libau is a small, quiet settlement located slightly north of East Selkirk off Hwy # 59. It was settled in the later part of the nineteenth century by early Latvian and German settlers who emigrated from north central Europe and various parts of Russia. Many of those century-old immigrants were among the thousands of others who boarded vessels in the ice-free harbor of Libau (Liepaja), a seaport city established along a narrow sandy peninsula on the shores of the Baltic Sea and Libau Lake in West Latvia.
During the mid to late 19th century, Libau was one of the largest emigration harbors in Russia with direct lines to Canada and United States. Numerous vessels made the long transatlantic passage to North America with several anchoring in eastern Canadian ports. Immigrants disembarked from the ships and boarded trains heading westward. Thousands of families landed in Winnipeg where hundreds more continued their journey northward to the immigration shed at East Selkirk.
Once in East Selkirk, immigrants applied for land through the Homestead Act, an act that had been passed in 1872 to encourage settlers to travel westward. Local government hired surveyors to survey and divide the land into six mile squared townships. Each squared mile equaled one section or 640 acres with each section being divided into quarter sections ~ all quarter sections equaled 160 acres. Anyone over the age of 21 (normally the head of the family) was encouraged to apply for a quarter section of land. Once the claim was accepted, a fee of $10.00 was paid and the family set out to find their numbered stake. Homesteaders were required to live on their land for three years before receiving full title to their homestead.
Hundreds of families applied for homestead land north and northeast of East Selkirk. Many of them found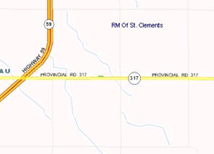 comfort in each other as they struggled to begin new lives in North America. Soon after they located their homestead, settlers constructed small houses and out buildings. Some buildings were made of round logs and chinked with clay. Other farmers cut down trees, peeled the bark, and sawed planks to use in the construction of their buildings. They visited each other's homes to discuss topics such as schooling for the children, the building of a church for local worship, and retail possibilities. As buildings began to appear in close proximity to one another a settlement formed. It was named Libau ~ the name where many of the settler's initially came from. Libau is a German pronunciation for the Lettish city of Liepaja. The name means linden (lime-tree).
Libau Blacksmith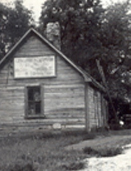 The early settlers of Libau were farmers ~ cultivating the earth by hand and with oxen. They planted vegetables and grain for themselves and for market. They raised oxen, cows, horses, hogs, chickens, and, of course, children. They worked hard to establish their community in a time when money was scarce.
Libau's first school district ~ No. 1231 ~ formed on 28 March 1903. The community constructed a school that same year on the southeast quarter of section 15-15-6E. The Polish National Cemetery currently occupies the site on the north side of Hwy #317. Made from light wood frame construction, the small one-room schoolhouse burned three years later on 24 March 1906. A second structure was built on the same site, which provided lessons to the children of the immediate area. The community continued to grow however, and it became clear that one school could not hold all the children.
Construction on a second school began around 1918 at section 17-15-6E (just west of the existing Libau Community Club). The community referred to the buildings as the New School or The West School, with the first schoolhouse being The Old School or East School. Fire destroyed The East School on 24 July 1949. The community worked quickly to remodel an existing building into a schoolhouse and move it to northeast quarter of section 11-15-6E. In 1952 two new schools were built. A two-room building opened in the village of Libau on 22 October 1952, and a one-room structure replaced the remodeled structure at northwest quarter of section 11-15-6E. Libau School district dissolved in 1967 when it became part of Lord Selkirk School Division.
Libau General Store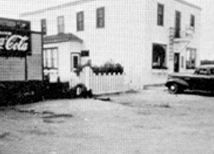 The community built several small country churches throughout the area and land was donated for four separate cemeteries including: St. Joseph's Polish National Catholic Cemetery, Polish National Cemetery, Libau Cemetery, and Libau East Cemetery.
The first post office opened in the spring of 1903 under the name "Kreiger." Three years later the name was changed to Libau. The duties of postmaster were performed by a long list of local residents. Libau post office received local and national attention in 1967 when a group of local residents challenged the authority of the Postmaster General and the Federal Government to move the post office from one local store to another ~ a distance of about 75 yards. In an effort to stall the proceedings, a group of petitioners kidnapped the postmaster. Their efforts were short lived, as the Federal Government went ahead with their decision to change the location of the post office.
Today Libau remains a small, quiet settlement. It is home to a curling rink, Mars Sandhills Resort Golf Course located 9 Km East on Highway 317, a community centre, several churches and cemeteries, and numerous private homes.
Article written by Donna G. Sutherland St. Clements Heritage Advisory Committee – 01/24/05