On the urging of Father John Sajewicz, Pastor of Corpus Christi R.C. Church, three resident members of the Knights of Columbus undertook the task of organizing a new Council in the Narol District, Brothers Joe Czubaty, Walter Natuik and Omer Ouellette can- vassed the district for candidates (30 were required).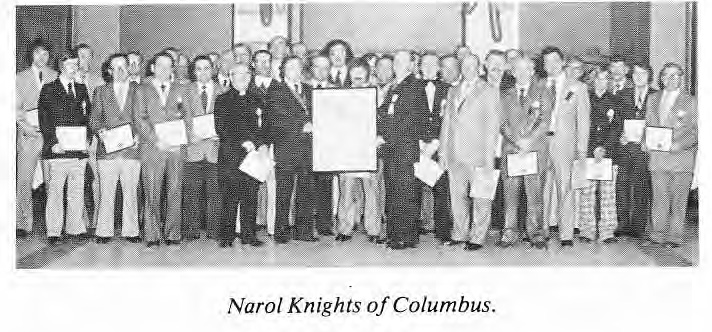 On November 12, 19'74,26 members had the honor of the admission degree conferred upon them. Similarly,5 more were admitted on December 2. They together with seven members transferred from other councils formed the nucleus of the new council. A charter was applied for and granted by the Supreme Council and on December 2, 1974, an inaugural meeting was held, where following officers were elected:
Grand Knight – Bro. Joe Czubaty
Deputy Grand Knight – Bro. w. Natuik
Financial Secretary – Bro. O. Ouellette
Chancellor – Bro. J. Persona
Recorder – Bro. A. Novak
Treasurer – Bro. R. Minkus
Advocate – Bro. A. Czubaty
Warden – Bro. R. Kubic
Inside Guards – Bro. J. Shaski
Bro. D. Natuik
Trustees – Bro. Z. Kowalishyn
Bro. S. Wachal
Bro. K. Kryschuk
Successive Grand Knights since then are:
1974-1976 — Bro. J. Czubaty
19?6-1978 – Bro. W. Natuik
1978-1981 — Bro. B. Rosney
l98l-1982 — Bro. R. Minkus
1982-present — Bro. O. O'Connor
Since its inception, the Council has been very active in the community. One of the first projects being the installation of washrooms in the Corpus Christi Church basement. Looking further afield, the Council went on to purchase 9 acres of land off Dunning Road on the expectation of developing a community centre. Before those plans could be fully developed, however, the Council was called upon to assume management responsibility for the existing community centre, the former Donald School.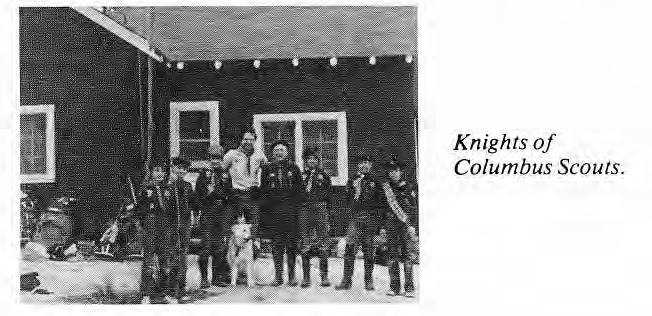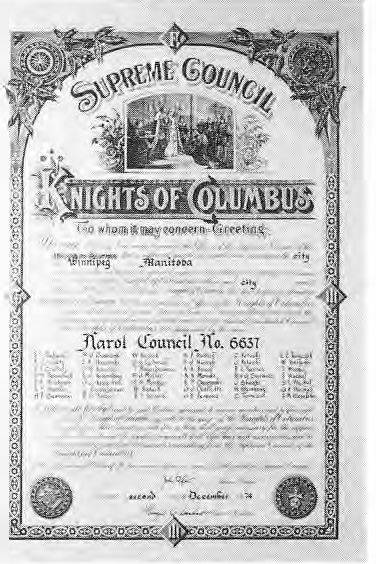 Currently, the Council is committed to rebuilding the site into a revitalized sports complex.
Other community projects have been the sponsoring of the local Bo1 Scour organization. assisting in organizing baseball and fastball teams for the youth in the community, as well as contributing financially. Substantial financial contributions have also been made to the Arthritic Society.
Currently there are 96 active members many of whom have given freely of their time and effort to promote the welfare of church, community and country. Within the organization itself, Narol Council is known for its leadership qualities as a number of its members are actively involved, both at state level and within the 4th and highest degree of the Order. Members of the Narol Council have chaired state activities, have recently had a district deputy chosen within their ranks as well as the Master of the 4th degree for Manitoba and Northern Ontario.
By: O. Ouellette