As early as before the turn of the twentieth century, around 1890, a large influx of Ukrainian settlers were emigrating to Canada which led to the establishment of Ukrainian Catholic parishes – one of which included the Holy Trinity Ukrainian Catholic Church in Gonor (PTH #204).
Being people of great love for their homeland and great faith in God, soon led them to worship in homes and later churches were built. Encountering many hardships in a new land, they endured quite well. The first services were held at the home of Pawlo Ritchie family,. with land donated by this very same family as well as Hilko Lewis and family. The first church was started in 1899, in the traditional Byzantine-rite style, in the form of a cross.
At first only about five families arrived, but by 1899 a meeting was held and by this time there were fifteen families who were greatly pleased to start a new church that year. First members were: Pawlo Ritchie, Ignatius Romano, Hilko Lewis, John Kotyluk, Joseph Dubowits, Samuel Hnatyshyn, Safron Rewutcky, Matthew Maruda, Jakuba Semeniuk, Dmetro Semeniuk, Nicholas Pronyshyn, Toma Pronyk and John Ewaschuk.
By 1901, the first services were conducted by Rev. Sholdak of the Basilian order. By 1904 namely Rev. Fathers, Hoora, Kryzanowski, Filipiw, Zaklinski, Vasylewich, Humetski, Kracitski and others offered their services in later years.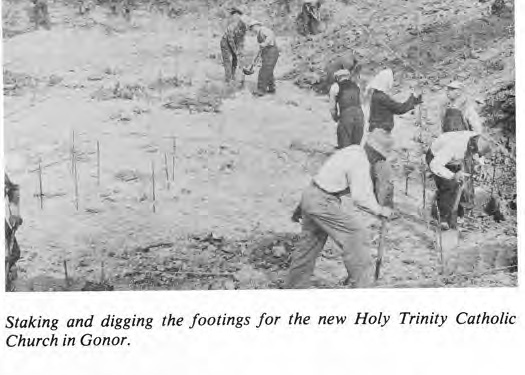 A larger church was built in 1911 and Rev. Didyk arrived from Winnipeg to serve the people whenever services including baptisms, marriages, and funerals were held. As the congregation increased, many priests from the Winnipeg Diocese rendered their services. Among these were Rev. Fathers, Andrucovitch, Pelech, Semczuk, Hryhorchuk, and Charney.
Rev. Anthony Luhovy was parish priest, with headquarters in Winnipeg, during the years 1930-1945. During the depression years, a parish hall built solely with volunteer labour, was realized.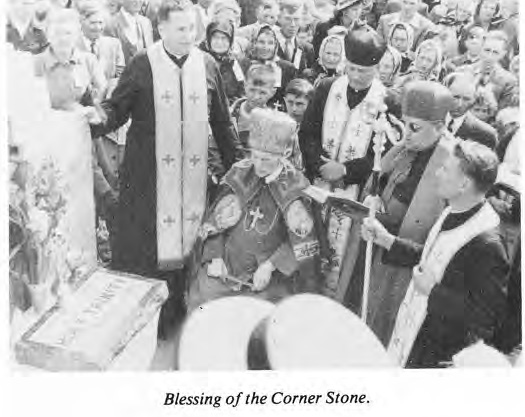 In the year 1952, under the energetic and capable Leadership of Rev. V.J. Bozyk, the present church, of brick and stucco structure, with its two radiant stainless steel domes, which could be seen from miles around was begun. It is a popular belief that the onion-shaped dome represents a burning candle. In 1953 it was completed. By 1955 a Church residence was built on the land adjoining and the parish cemetery is directly behind the Church building.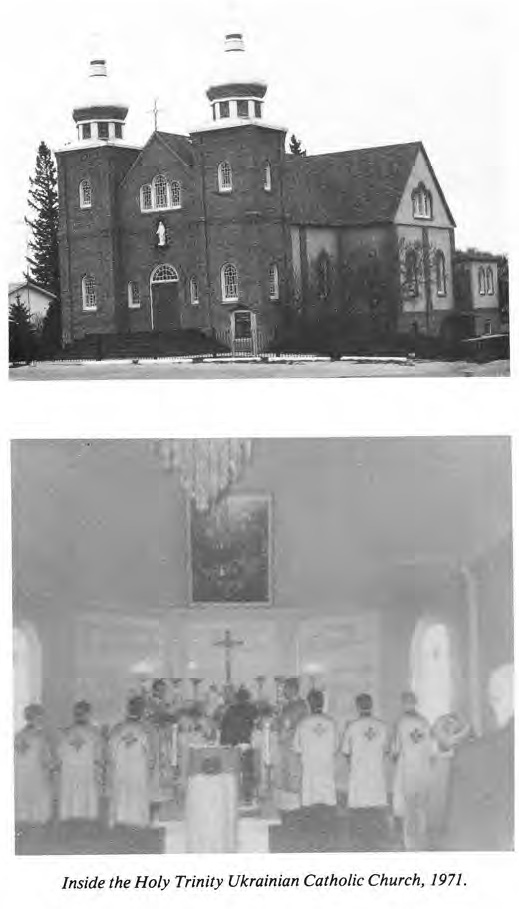 For twenty years, Rev. V.J. Bozyk served the parish, most faithfully. By this time, an acute shortage of priests was being felt and Rev. Bozyk, the local resident priest, was transferred to serve the Holy Eucharist parish in East Kildonan
Our parish is now being served by priests who now have to take charge of more than one parish until the situation changes. The present priest of the Holy Trinity Ukrainian Catholic Church is Rev. Michael Kolenich, who also has charge of St. Anne's Catholic Church, North Kildonan, Manitoba.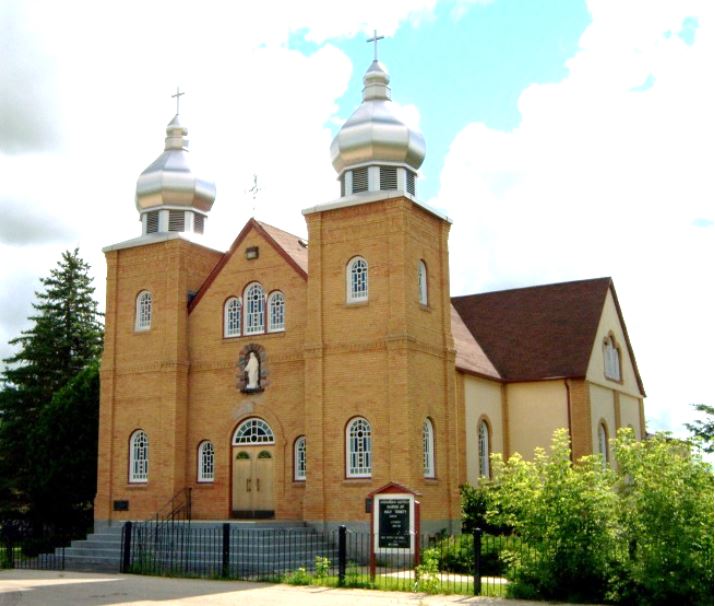 By: Betty Romano