On a bright October day in 1931, my husband and I and our young son saw Gull Lake for the first time. It was one of the most memorable days in our lives. Gull Lake was to become The Place Beyond the Hill for us – that better place which exists in dreams for all of us.
We came in search of some place in Manitoba where our son would be free of asthma and hay fever. Friends told us of Gull Lake and it's clear spring water, white sand beach, and clean surrounding woods of pine and birch. They warned us that the road was bad; but in our search we had travelled many such byways through Red River gumbo, Assiniboine mud, and over perilous rocks in the Winnipeg River area.
Our sturdy little Whippet car had never failed us, so that October day, Peter and I with Douglas, his cousins Jack and Doris, and our little grey cat Warlock left the highway and found ourselves driving through low lying country where neat compact haystacks mushroomed in clumps over expansive, rich meadows. The road tapered to a trail of deep ruts and narrow ridges. Peter's face was grim; an uneasy atmosphere quelled my gypsy exuberance for travel and when a wave of heavy peat smoke came rushing at us from blue muskeg to the east Warlock, with an instinctive fear of fire, crouched on the floor of the car and wailed dismally.
Endless miles, until the Whippet groaned, swayed to one side, and seemed to sag all over. lt was too much Peter exploded: "Well! You can have Gull Lake! I wouldn't go over this road again for anything!"
He stomped off to interview a native who stood leaning on a fence rail, gazing intently at us. "How far is it to Gull Lake?"
Astonishment lightened solid features. "Gull Lake?" the native exclaimed as he eyed Peter for further signs of mental derangement; shrugging his shoulders he turned away, grunting non-committedly: "Straight north. Six, seven miles, maybe nine, ten – I dunno".
Twice more we asked direction and distance and discovered that miles were an undetermined, unnecessary measure in this land of limitless muskeg, and Gull Lake meant nothing to the few hardy souls whose lives were spent forcing back the muskeg from a few acres here and there.
Once Peter set his mind on a certain journey, he didn't like to be beaten and the look of disappointment on our faces when we thought he was going to turn back was enough to bolster his endurance. After miles of twisting trails we rounded one more curve and were there – in another world. The land was a beautiful green, spring fresh even in October. Beyond lay Gull Lake – a tranquil gem, its sparkling waters glittering in the crystal light, enhanced by a filigree setting of trees with colours broken here and blended there. We were speechless with the surprise of it, awed by its sheer beauty.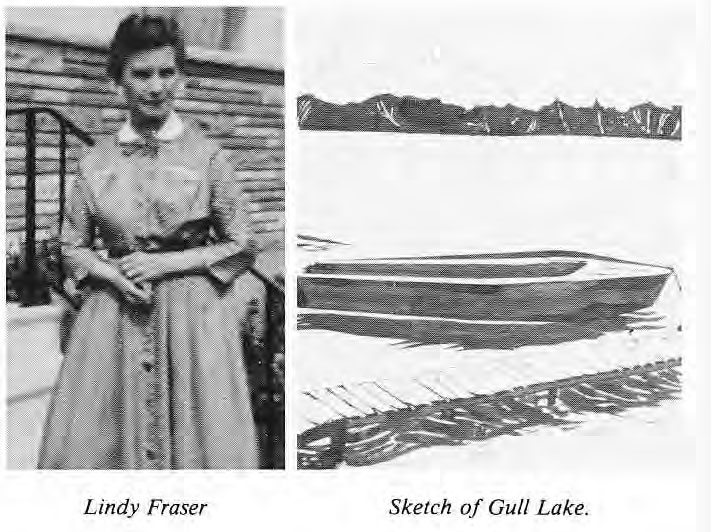 Half an hour in the clean sweet air convinced Douglas that here he could breathe freely. Full of excitement we set out to choose the spot we wanted; we knew it the minute we saw it; it had always been ours; we had simply come to claim it. As we walked over its deep, soft carpet of pine needles a gay little chickadee fussed along beside us – welcoming us.
We bought the lot and acquired the chickadee. We built a little cottage for vacations, summers and weekends. Through happy years Douglas grew up and Warlock became urbane; Gull Lake was in our blood and the road never again seemed to matter.
When, in 1946, Peter and I found it necessary to give up city life it was only natural for us to want to come to Gull Lake. We decided to buy a little more land to build a few cottages for the summer rental to give an income. We let our hearts persuade us for we knew that once having found this place, people always came back in spite of the bad road and isolation.
At the eastern tip of the lake we found a bit of beautiful property. With a beach of white clean sand, the land climbed sharply from the shore to a little rise which offered perfect drainage and seemed a likely place for striking springs to provide a water supply. Safely screened behind a barricade of undergrowth and deadfall were magnificent birches, large balsam, and a tight little thicket of protective spruce. I exclaimed: "Why! It's a regular Walden Wood!", and so we named our camp.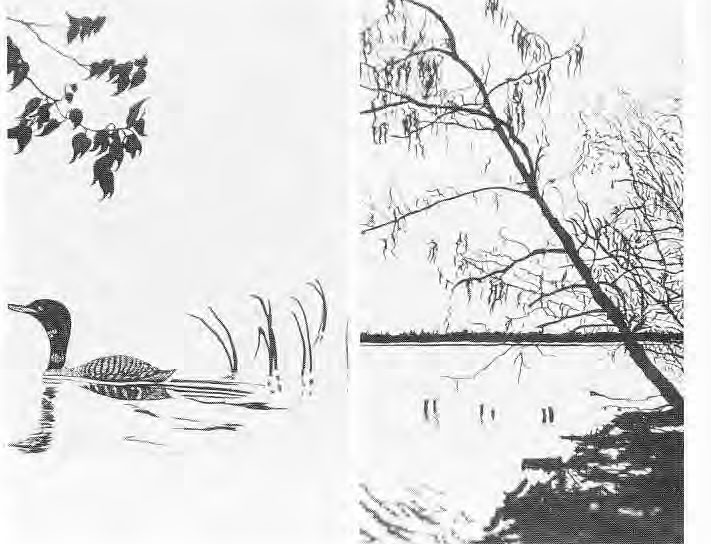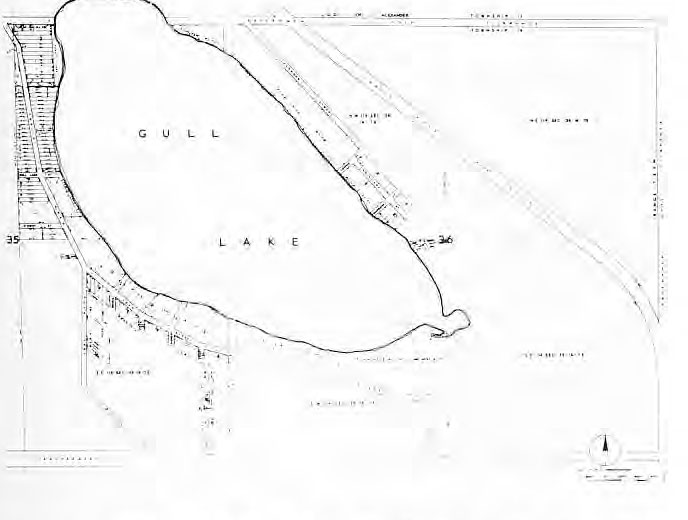 A warm October sun reached through thinning foliage; rich mold and spicy ripened leaves released their winey aroma. Revealed was the spot for our cottages: one here, one there. Here we would sink a sand point; deeper in the woods – There! ' we would build our dream home with its majestic lake view, in our minds already landscaped, each birch correctly placed.
We met our first setback upon racing back to Winnipeg to interview the owner, Mr. Gunn. He had received an offer for all his holdings at Cull Lake which included two separate lakeshore lots and a sixty acre woodlot, in addition to the bit of lake frontage we wanted. We had very little cash, but we would rent the house in Winnipeg, get the cash surrender value of Peter's life insurance, and take the plunge. We ended up with little capital but acres of land.
That winter was a nightmare of ill health and frustrations, but our courage was high. Our enthusiasm went sky high when we got applications for three rentals and plunged when we shopped for beds, blankets, dishes, sinks, stoves, pots and pans that no one seemed to have t0 sell. We bought lumber for a start – poor stuff at high prices; and we managed to pack the accumulation of a lifetime; and rent the house for the first of May – so definite, so final we longed to cry.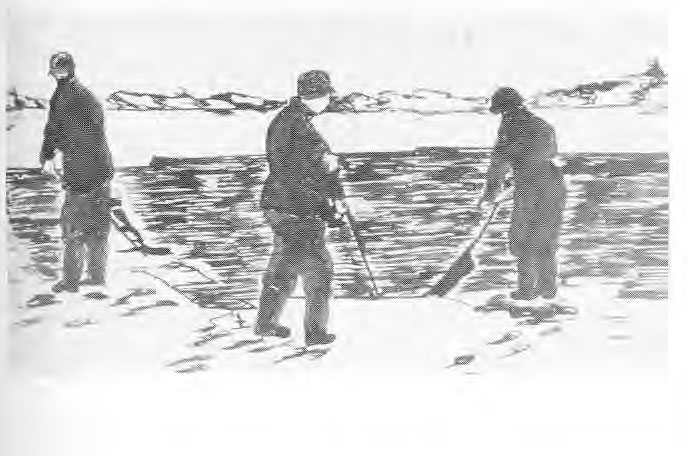 On the last day of April, our car piled high with belongings, Peter, Warlock, and I left Winnipeg and started for Gull Lake. We were tired and it was raining. The road would be bad but we had no choice. When we got to Because jour and saw a car hopelessly stuck, we decided not to attempt the last 26 miles without a full day for the drive.
On May Day we left the hard surfaced road and started on the muddy road north. Halfway, we were stuck and the road ahead was impassable. Peter sloshed to the nearest farm and paid the farmer to pull us through a couple of miles of mud.
We finally arrived, stepped into our beloved cottage and into the new drama of our lives – alone, and in the powerful quiet – small. Our foot prints were the first to mark the smooth packed sand of the beach as little ruffles on the lake danced for joy and tossed gay bubbles at our feet. A pileated woodpecker left his stump and swooped with a defiant flourish into the balsam. The air was like wine bringing on the northwest wind the sweet scent of pine and balsam.
We planned to have three cottages ready for tenants by July 12 and lost no time in getting started, but new difficulties seemed to crop up: there were the long days of unfamiliar work; it was impossible to get help; rain fell with harsh intemperance; saw blades doubled up against the resistance of tough, soggy lumber – their edges dulled and precious time had to be squeezed from some part of our working hours to sharpen them; and the engine that powered the saw was temperamental and almost human in its ability to choose the most inopportune time for its breakdown. The sound of hammering was the drumbeat of progress yet progress seemed slower and slower.
What was it that gave us the power to accomplish all that we did? It was a wonderful knowledge within us, a conviction that we were doing the right thing. We visualized what must be done, calculated the work required, and sheer will power turned struggle into achievement while enthusiasm engulfed the setbacks.
Another request had come for a cottage for July l2th, and although it seemed a sacrilege, we rented our own cottage. Now these folks wanted to come a week ahead of schedule! Somehow we moved stored crates, boxes and furniture and on July 5th, we moved out and our tenants moved in. Our first deadline met!
With July 12th only a week away, Peter managed to get a neighbour across the lake to come and help. Days were a frenzy of sawing, hammering, and painting; nights blessed oblivion. The men finished the second cottage, and turned to the last – the chimney, sink, cupboards, doors and stove were put in place. Each day was hotter than the one before. Our neighbour matched our hours and stood by us with great loyalty and fine spirit, for which we are grateful. July the 12th!
It was even hotter with a great unease of air and sky. The first family came in the morning and were delighted with everything. Feeling the fear diminish, I followed the men to the third cottage with dishpan, broom and mop; by late afternoon the curtains were up and the furniture in place.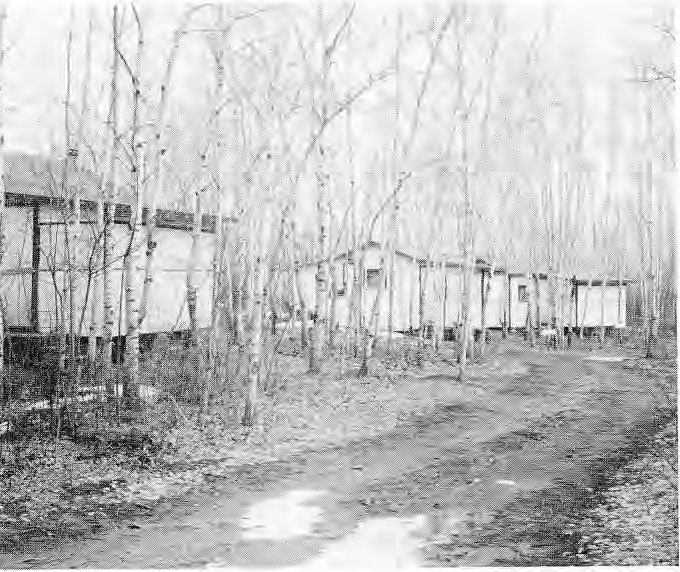 A glance skyward showed clouds pregnant with storm and there was a horrible pressure everywhere. Came the roars of thunder! Then the rain! And with it the tenants for the second cottage in a car that looked the length of half a city block with a shiny red canoe on top.
Suddenly I realized we had no place to live; we had been too busy to give the matter thought, too tired to care.
Exactly an hour before Peter had to meet the bus bringing our third family, the men finished the third cottage. Now Peter also realized that we had no place to live.
We had built a "ten by twelve", used for storage and paint shop, crowded with boxes, stoves, screen doors and nail kegs, littered with oil and paint cans, and daubed with paint. It had no door and the windows were just set in. Now they cleared some space, moved what could be moved into the rain, hung an inadequate screen door over the entrance, set up a stove; and followed by a wet' bewildered little grey cat, I moved in, while Peter went to meet the bus.
The storm increased in fury; throwing wicked lightning wildly pursued by intense shattering thunder. Rain slashed at the cabin; and after Peter returned with our third family, and finished his camp duties, he came hurrying anxiously to see how I had weathered the agonies of work and storm.
Gone was the urgency of our work, we had made the deadline. We were crowded in with screen doors and packing cases in a tiny hovel but the 12th of July was over, and its culmination of storm cleared the way for a summer of perfect weather.
We lived in the "Hovel" three months, and in those three months we expanded it until it became positively elegant.
Yet throughout those stressful days, we were aware of "springtime in the woods"; wakening to a chorus of rollicking birds, and working to the accompaniment of birdsong all day long; listening to the whip-poor-will announce the approach of dark when the little tree toads would chatter noisily and the frogs boomed. Bracken spread fresh covers; fat glossy buds burst; and the breath of the earth was warm and lavishly fragrant with the scent of new leaves and wild fruit blossom
Our first tenants told their friends and the friends camel when Labour Day came every corner was lull and we spread our mattress on the floor of the garage. We were launched in business, feeling happy and important.
As summer dwindle d my desire to stay grew. With difficulty, I convinced Peter that a winter in the isolation of the woods was exactly what we both needed. Yet it was with foreboding that he began work on another, winterized cottage.
September: gleaming days, full of warmth and brilliance, fresh dews and soft mists, and morning after morning of glorious sunrises. There seemed more color than the sky could hold, so it left color everywhere on the hillside – on trees, on shrubs, and splashed on the path.
The days were magnificent, but the moonlit nights were pure wizardry. The moon drew etchings of fall poplars across our camp trail; deer bounded past, absurdly afraid; the loon's laugh was loud in the stillness; while the ducks chuckled complacently. The whip-poor will poured out his happy song faster and faster until he tripped over his own tongue; then he rested and started in again.
In mid-October, we moved into our winter cottage, secure and eager, – the winds could blow and the snow could fall.
As the ice deepened, the lake constantly growled and complained; and when the ice cracked, we heard great booms. The ticking of the clock gave us a new sense of time, and we were fascinated by the infinity of winter storms. We gathered the nights of peace and content about us and wintered snugly to the hooting of the owl, the drumming of the partridge, and the howling of the wolves.
As our enterprise expands we have enlarged the pattern of our lives which was shaped that first year. We noir have eight housekeeping cottages, an icehouse, a boathouse, and a permanent dwelling for ourselves. There are three wells of clear spring water; our beach is lively with four boats, a water slide for the youngsters, bright chairs and benches, and an awning covered seat for the grownups.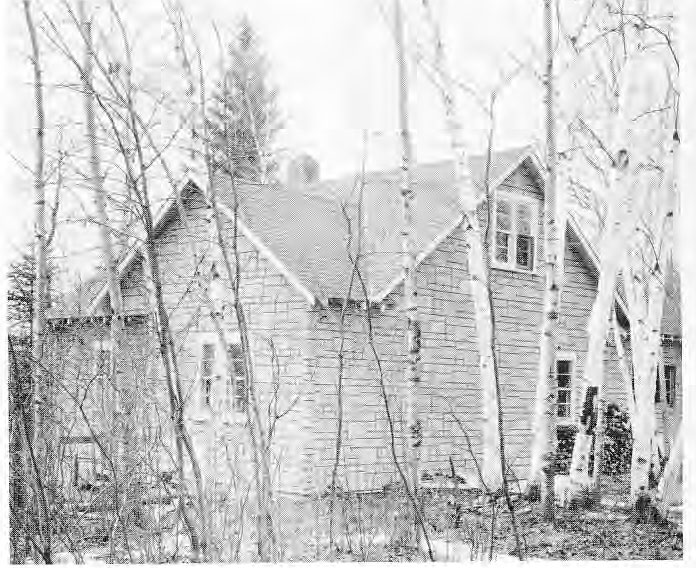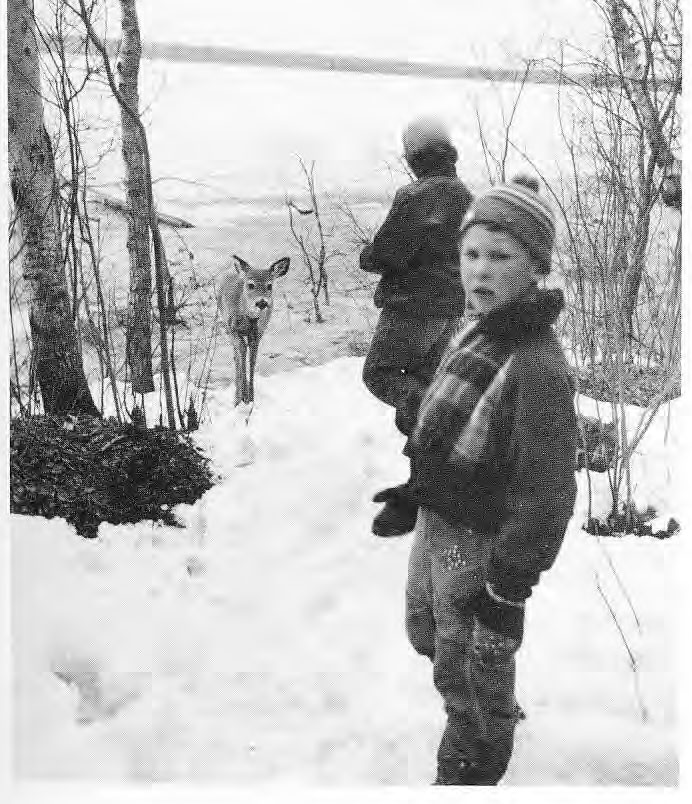 There is much we miss from our city life; though life here is simple, it has not always been easy. During the first six years, our washings were done outside and the skies are not always blue when the soiled linens mount. We have been repeatedly thrown on our own resources, but Peter's ingenuity invariably rescues us and on we go.
As the Province scrutinized holiday and tourist areas, roads have been improved; until finally, in 1954, a hard surfaced highway reached us and stretched across our sixty acres on its way to Grand Beach, Electric power lines came; we applied for telephone service, and lo! The world is on our doorstep.
We had not, however, waited for the Province in the matter of the telephone. Peter and our good friend, Claude Brereton built our own little "Bush Telephone" which connected us with our nearest neighbours and took the dangerous edge off our isolation.
We can claim no foresight in our choice of this location; yet, we could not have chosen better. We are in the midst of Manitoba's lake area, but nowhere could you equal our little spring-fed lake. Our register proudly establishes that people come from Campbell River, Vancouver, Edmonton, Calgary, and Saskatoon; and from Brandon, Neepawa, Reston, Fort William, T0ronto, Ottawa, and Montreal; to holiday at Walden Wood.
Our success is in work well done, achievement in spite of our years, in good living full of the richness of experience that people bring us, the satisfaction of financial rewards, and in the happiness of creation and fulfillment; there is no measure.
Living close to the earth, contentment has come to us in our "Place Beyond the Hill".
By: Lindy Fraster